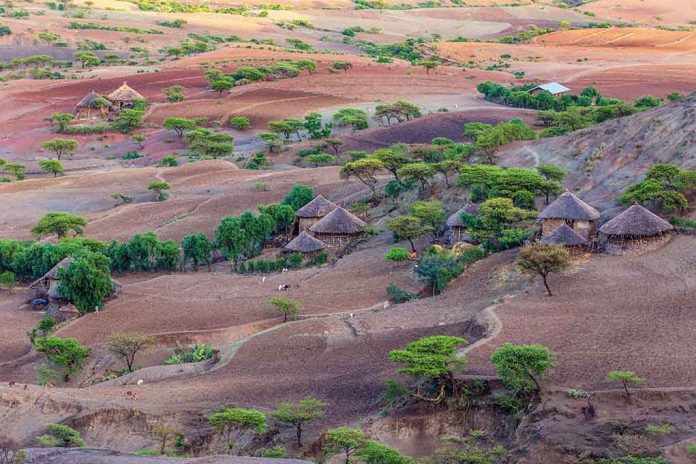 Genocidal ATTACK – At Least 200 People Dead!
(BrightPress.org) – Ethiopia is Africa's second most populated country. It's also very tribal, and since 2020, many of the nation's citizens have experienced campaigns of ethnic cleansing in different regions. In early 2021, journalists and humanitarian workers found it difficult to report on the crimes in the country because Prime Minister Abiy Ahmed's government instituted a communication restriction.
In the first six months of 2021, new waves of ethnic cleansing hit the country, and reports surfaced of killings, rapes, and mass movements of people fleeing the violence. US Secretary of State Antony Blinken condemned the ethnic violence, but to little avail. On Sunday, June 19, 200 ethnic Amhara were attacked and killed in the Oromia region.
200 Dead as Groups Deny Responsibility
Thirty years ago, Amhara people settled in the Oromia region during resettlement programs. Now, many are desperately trying to find a new place to call home after experiencing brutal ethnic crimes. Some blame the Oromo Liberation Army (OLA) for the vicious attacks.
One witness told the Associated Press he counted 230 bodies and said it was the worst attack against civilians in his lifetime. The man said the community was busy burying the victims in mass graves. He noted they were safe as long as the federal army was with them but said he feared more violence once they leave.
The Oromia regional government also suspects the OLAof the ethnic violence. The government said the OLA attacked after they failed to resist an operation by the federal security forces, insinuating the attack against civilians was retaliation.
The OLA denied responsibility. The AP said the OLA blamed federal forces for the attack, saying they were retreating and that their soldiers were nowhere in the area of the attack. In addition, OLA said federal forces attacked the Amhara people for their perceived support of the Oromo Liberation Army.
Government Wants Lasting Solution
The Western Tigray Zone has also experienced vast ethnic cleansing, except this time, the Amhara are the attackers. They have worked to remove Tigrayans from their homes in a terrifying fashion.
On Monday, Prime Minister Ahmed tweeted that the attacks against civilians were unacceptable and that there would be zero tolerance for terrorizing communities.
Attacks on innocent civilians & destruction of livelihoods by illegal and irregular forces is unacceptable. There is zero tolerance for horrific acts claiming lives recently in both Beninshangul & Oromia regions by elements whose main objective is to terrorize communities.1/2

— Abiy Ahmed Ali 🇪🇹 (@AbiyAhmedAli) June 20, 2022
The Ethiopian Human Rights Commission is a federal government-appointed entity. On Sunday, it called on the government to find a lasting solution to the ethnic cleansing and protect civilians from the brutal killings.
Copyright 2022, BrightPress.org