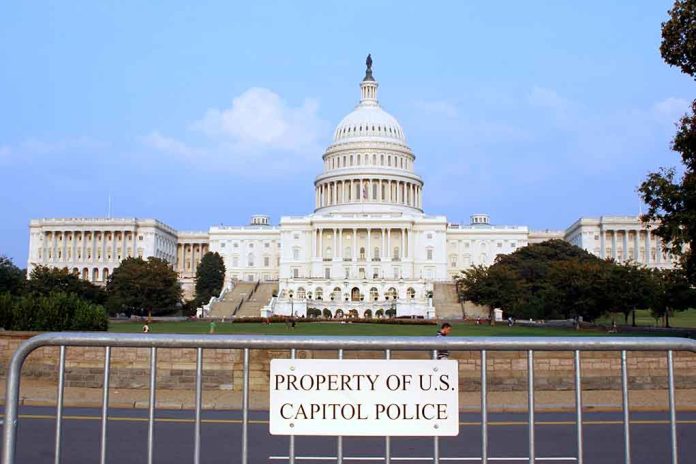 (BrightPress.org) — Five House Republicans: Jim Banks, Troy Nehls, Jim Jordan, Rodney Davis, and Kelly Armstrong published their findings Wednesday the 20th of December outlining security failures that contributed to the failure of law enforcement to contain the riot at the Capitol on January 6th, 2020.
Citing failures by Speaker Nancy Pelosi who was more concerned about "optics" than the safety of Congress, they outlined how the refusal to deploy the National Guard contributed to the fiasco.
More than 2,000 people invaded the Capitol that day in solidarity with Trump and others to express their belief that the election contest was rigged unfairly. As the Twitter files have shown, there is some merit to that accusation, much more than previously thought.
The five Republicans issued a statement suggesting that Speaker Pelosi was "playing politics" when she excluded them from the Jan 6th committee, allowing only infamous RINOs (Republicans in name only) Liz Cheney and Adam Kinzinger on. Those two have since lost their re-elections, imagine that.
They continued to suggest that Pelosi's committee was intent on creating a partisan narrative that incriminated Trump exclusively, ignoring all other concerns or contributing factors which was why they felt forced to do their own investigation. That seems to be the case as one of the big takeaways, according to CNN, is that "all roads lead to Trump."
Their report outlined the failure of Capitol Police to have proper training on how to respond to violent protesters. It claimed they didn't have the proper equipment required to deal with a riot. It mentioned that due to the bureaucratic organizational structure there was confusion over decisions and communications, delaying response time. One Capitol Police officer who testified said that they had "nothing by their baseball caps" when faced with an angry crowd of protesters and that the US Capitol Police were "set up to fail."
Republicans cited witness testimony, documentary evidence, and news reports. Pelosi has repeatedly denied any responsibility for holding up the deployment of the National Guard.
Copyright 2022, BrightPress.org