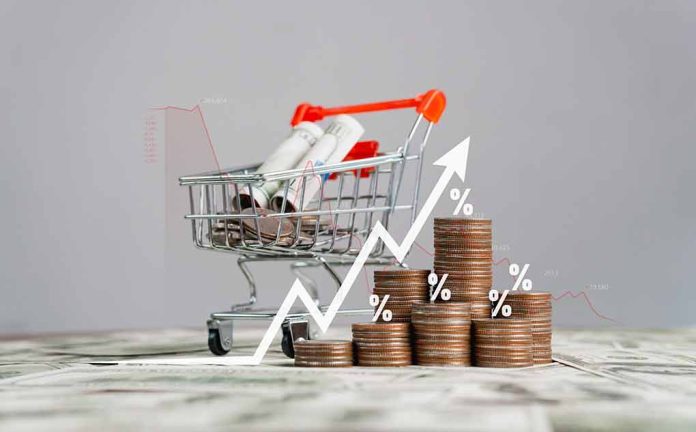 (BrightPress.org) – The Biden administration is flailing to assert that its Inflation Reduction Act (IRA) wasn't a complete failure. One year on and inflation continues to rise across multiple sectors, dramatically reducing real wages and income for Americans who have to use more of their hard-earned cash to buy things like food, gas, and utilities.
The 13-figure "green" legislation included billions for climate-change-related programs, enhancing the impact of inflation by spending billions of dollars in money that has to be borrowed or printed. CEO of the Job Creators Network Alfredo Ortiz suggested the IRA has done more to complicate and exacerbate the problem than it has to mitigate it.
Ortiz credited the Federal Reserve with reducing the rate itself but added that the price base is already higher, which means less inflation still has a big impact on real prices and real wages of everyday Americans struggling to avoid food and other necessities. According to his organization's polling of small businesses, inflation remains their number one concern. He added that inflation also reduces the standard of living for Americans who aren't already wealthy.
The White House is desperate to conceal the damage. They pumped out an infographic with testimonials in order to create the impression that the IRA was successful when the reality on the ground suggests otherwise. Keep in mind the IRA cost American taxpayers $1.2 trillion.
Biden supporters aren't even sure what the act did to reduce inflation. The administration has been having a tough time explaining the legislation to voters and elaborating on its achievements. Making billions available for climate programs and NGOs doesn't help average Americans, and Ortiz explains it harmed them by increasing inflation instead of reducing it. He also said that the administration seems more interested in green energy than it does in making sure Americans have green in their wallets.
The impact is measurable as 76% of Americans recently polled said the economy under Joe Biden's administration is "poor."
Copyright 2023, BrightPress.org