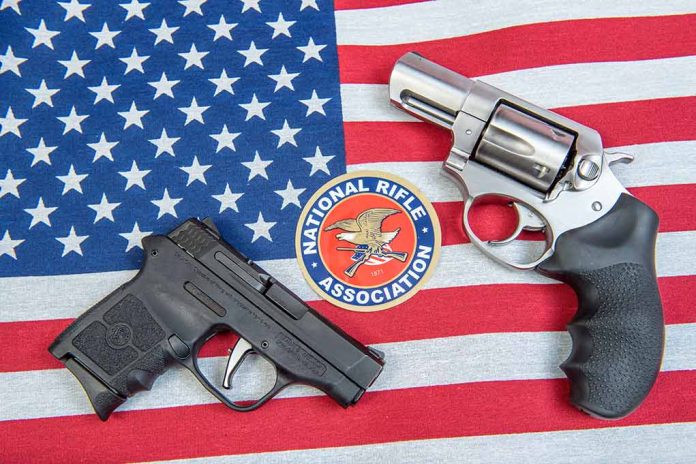 (BrightPress.org) – Parents and guardians of kids who attended an NRA event last week are furious that photographs of their children were used to promote gun control. One Reuters photographer in particular is accused of setting her shots up to make them as inflammatory as possible. One photograph of a young boy pointing a gun at the camera went particularly viral, and the grandfather of that child, Dan Eckart spoke to Fox News Digital.
Eckart called the shot "a set-up" and explained how he witnessed the photographer moving around so that she was directly in front of the boy. Reuters denied any wrongdoing, but went ahead and took the child's name off their published version of the images. The damage was done already however, that particular image has been shared thousands of times on social media and has appeared in published content from the Daily Mail and other outlets. 
Photographer Evelyn Hockstein told the young boy to "look at her" while she was photographing according to what the child said to his grandfather. The image is iconic, showing an incredibly young child pointing a gun straight at the camera. The weapons were all locked and no live ammunition was allowed at the event for obvious safety reasons. A spokesman for Reuters denies she told the child to look at her.
Almost universally the image was used to highlight the frequency with which children are injured or killed by gunfire. Families of the boys have been called "gun groomers" for exposing their children to the event and they are concerned about the safety of their children after having their names and faces exposed on social media.
Eckart believed she was friendly to the NRA given some chit-chat, and willingly gave her his name and the name of his grandson, presuming it would be used for the NRA's promotional materials. The boy's parents are working to get the images removed from news articles online.
The NRA gathering had roughly 80,000 people in attendance which featured firearms, associated gear, safety classes, and speeches by politicians and others in the field. The NRA typically grants media special passes to attend the event, including Reuters, which is otherwise reserved for members only. 
Copyright 2023, BrightPress.org