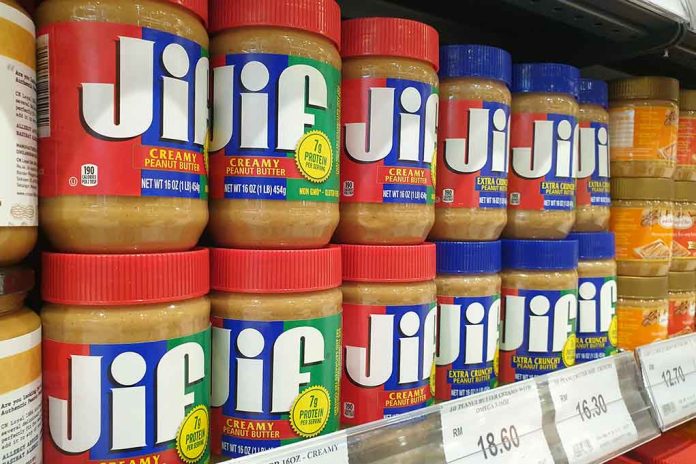 Popular Food RECALLED – Everyone Should Know
(BrightPress.org) – Americans love peanut butter so much that they eat over 700 million pounds of it every year. In fact, it's one of the country's original recipes, first patented around 1895 by John Harvey Kellogg. More than 125 years after the first patent, one of the country's most popular peanut butter brands is facing an investigation after potential salmonella contamination of its products.
.@Jif has recalled several products sold in the U.S. and Canada because of potential salmonella contamination tied to 14 illnesses. Consumers who bought the potentially contaminated products should immediately dispose of them. @US_FDA Alert: https://t.co/gxOSxUYBXT pic.twitter.com/nzuEzhrWxc

— MS Hospital Assoc. (@MHA) May 23, 2022
On Friday, May 20, the FDA issued a recall warning select Jif peanut butter products could infect individuals with the organism that causes people to experience a range of symptoms, including fever, diarrhea, nausea, and abdominal pain. Children, immunocompromised individuals, and the elderly could suffer a more severe reaction or even death. The FDA is investigating.
The CDC reported that 14 people across 12 states reported becoming ill after eating Jif products sold at retail stores and other outlets. Two were hospitalized with severe symptoms. The J.M. Smucker Co. immediately recalled 45 products nationwide with lot numbers between 1274425 – 2140425, if the first seven numbers end with 425. The products facing potential salmonella contamination include creamy and crunchy peanut butter, squeeze pouches, and peanut butter to-go packs. Visit the FDA's website for a complete list of the recalled products.
If you have a specific question or want to report an adverse effect after eating Jif's peanut butter, visit the Jif website or call 800-828-9980 Monday through Friday from 8 a.m. to 5 p.m. Eastern Time.
Copyright 2022, BrightPress.org