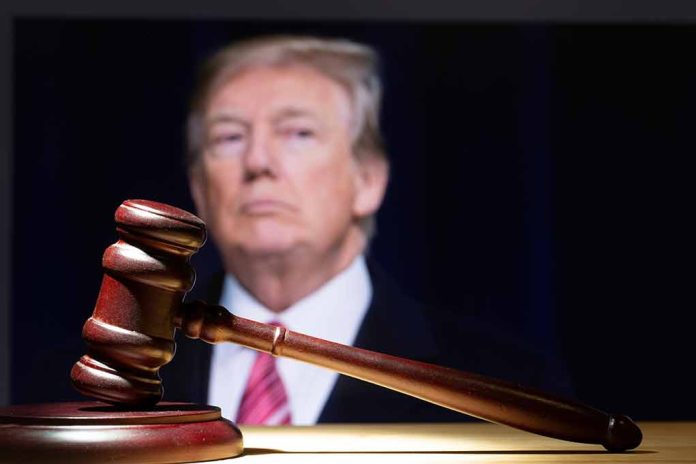 (BrightPress.org) – Donald Trump is forbidden from sharing evidence and information he and his team learn during the discovery process as his federal documents case moves forward in Miami. The Justice Department put forth the motion to prevent Trump from sharing anything he learns during the process with reporters or on social media, echoing similar restraints placed on him in the New York indictment over alleged hush money he paid to an adult film actress. The judge sided with the Justice Department.
Trump can only see the evidence with his attorneys present and is forbidden from making copies of his own. Judge Bruce Reinhart is overseeing the case, he's the same judge who approved the search warrant for Mar-A-Lago and who has since been the victim of threats from anonymous internet trolls claiming to support Trump.
Representatives for the Justice Department argued that the investigations are ongoing and indicated there could be more arrests in the future for separate individuals and that the order was required to protect the integrity of their investigations.
A recent poll from PBS/Marist indicated that the continued prosecution of Trump has bolstered his support among conservatives and Republicans while negatively impacting his performance with independents. 83% of Republicans want to see him stay in the race with as many as 64% saying they will vote for Trump. That's contrasted with 87% of Democrats and 58% of independents who think he should drop out.
The poll also showed that the number of people who believe Trump has "done something wrong" dropped two points from the last poll, 75% to 73% with 25% maintaining he's "done nothing wrong." The slight discrepancy is due to the 1-2% margin of error.
Like him or hate him, Donald Trump is in the battle for the long haul. He's nearly certain to keep fighting allegations against him while maintaining that the investigations are illegitimate political weapons to distract from Joe Biden's own alleged criminal activity. Recent revelations suggest the FBI knew about $5 million bribes the then-VP Biden took in relation to his actions in Ukraine. That's in addition to the constant release of damaging information from the House Oversight Committee on Joe Biden, who is also accused of mishandling classified documents and international money laundering.
Copyright 2023, BrightPress.org