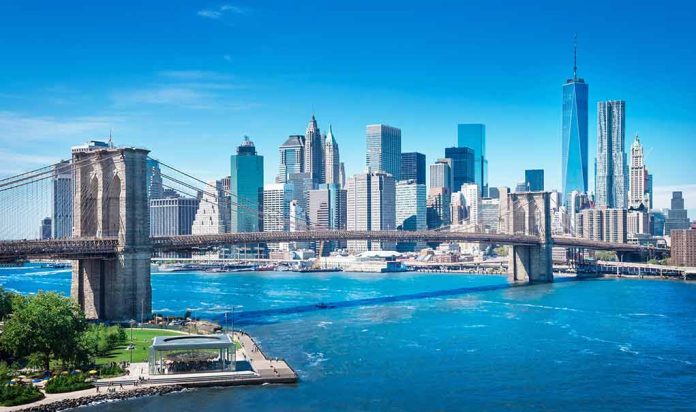 (BrightPress.org) – New York City has lost almost $1 trillion in managed assets as 158 firms abandoned Wall Street for southern charm and lower taxes. A new report from Bloomberg shows that from the end of 2019 through the present, 17,000 individual companies have departed New York or California, taking high-paying jobs and potential tax revenue with them.
Icahn Capital Management led by billionaire corporate tycoon Carl Icahn was one of the largest firms to leave NYC for Florida. They left their Fifth Avenue offices at the top of the General Motors building in August 2020, relocating to a 14-floor office building in the suburbs of Miami. ICM holds $22.2 billion in assets.
Elliott Management is another major firm led by Paul Singer, a hedge fund manager. They hold $59.2 billion in assets and left Midtown Manhattan in favor of West Palm Beach, Florida in October 2020.
Cathie Wood took her firm ARK Investment Management and all of its $24.7 billion in assets to St. Petersburg, Florida. She gained notoriety for betting heavily on Elon Musk's Tesla.
Chicago also lost billionaire Ken Griffin's hedge fund Citadel after they relocated to Miami in 2022. Griffin cited crime as being one of the biggest factors in provoking the move. Many of his employees had been assaulted, one stabbed, and Griffin himself was almost carjacked.
The impact has yet to be properly felt. These firms represent large chunks of the tax base and city/state economic activity. The amount of money that moves through them is gargantuan. Their high salaries are highly taxed leading to large chunks of revenue for governments. That revenue is now elsewhere as costs continue to rise. The report claimed that financial firms represented $5.4 billion in New York tax revenue in 2022, and their employees covered almost a quarter of all personal income tax collected.
Goldman Sachs is another major firm relocating to Dallas, which has a much lower cost of living than New York City. Dallas gave the finance firm $18 million in tax breaks in exchange for bringing 5,000 jobs into the city. Its $500 million campus will feature underground parking, a hotel & residences, retail shops, and a 1.5-acre park.
Charles Schwab moved from San Francisco to Westlake Texas, a Dallas suburb in 2020. Wells Fargo is also building a giant campus in North Texas.
Copyright 2023, BrightPress.org