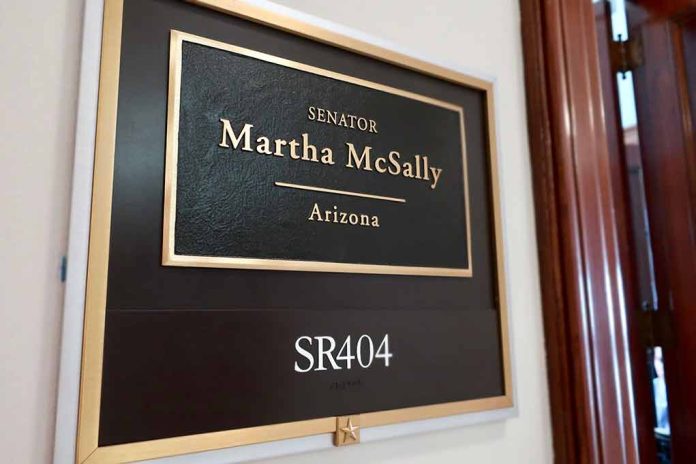 (BrightPress.org) – Former U.S. Senator Martha McSally reported that she was sexually assaulted on Wednesday while jogging near Omaha, Nebraska. After the incident, she chased the attacker, contacted the police, and promptly shared her ordeal on social media.
McSally, a Republican from Arizona, detailed her experience in an Instagram post, revealing that the incident occurred on the same day she had planned to discuss "courage and heart" and how to be brave on Instagram Live. She further added that she had to use her own principles and put them to the test.
Whilst still in shock as a result of the incident, McSally shared on Wednesday that a man had assaulted her along a trail by the Missouri River on the Iowa side of the state lines. She narrated that a man approached her from behind, grabbed her tightly, and touched her inappropriately until she managed to resist. Defending herself, she attacked him with swear words, pursued him, and even recounted that she suddenly felt the urge to fight him.
"I'll deal with the incident in a healthy way, just as I advise others to do. I recognize it has touched on past experiences of . . . assault, which I've managed to heal from as much as I can," she said.
Police in Council Bluffs, Iowa, confirmed that McSally contacted them regarding the incident, although the former Arizona Senator was not available to make any comments afterward.
McSally is scheduled to speak at an event on Wednesday with the Entrepreneurs Organization in Nebraska. The event, titled "Top Gun Lessons for Thriving in Life and Business," focuses on overcoming fear, building exceptional teams, and being resilient and agile in a challenging world.
The former Senator is not known for publicly sharing her personal challenges, a standard she has upheld even while serving in the U.S. House of Representatives and the Senate.
Copyright 2023, BrightPress.org