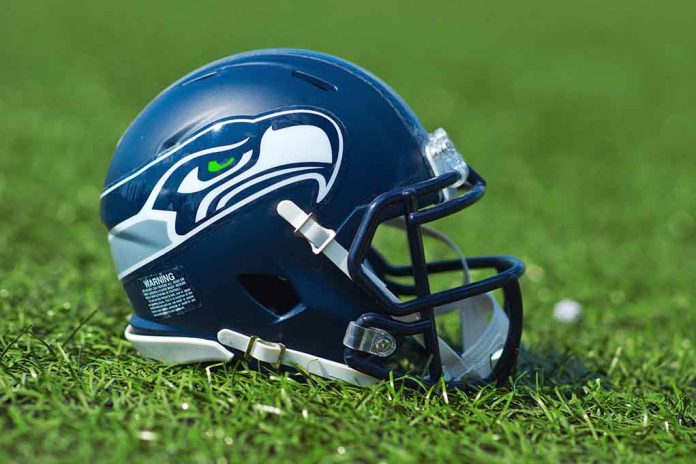 Super Bowl Icon ARRESTED – Insane Arrest Footage
(BrightPress.org) – At the pinnacle of his football career, Marshawn Lynch was among the NFL's most respected and feared running backs. In 2014, the player nicknamed "The Beast" won a Super Bowl with the Seattle Seahawks. Many NFL experts expect he'll be in the Football Hall of Fame one day. For the moment, though, the celebrity has other concerns.
On August 9, Las Vegas police questioned the former athlete after they observed him sitting in a damaged vehicle nodding in and out of consciousness.
"NO MORE GAMES": Police release body camera video of the suspicion of DUI arrest of former NFL running back Marshawn Lynch in Las Vegas. #RJNow pic.twitter.com/tKUkmZEnUD

— James Schaeffer (@jamesmschaeffer) August 11, 2022
Police told Lynch to get out of the broken-down vehicle several times. Dashcam video shows that one officer grabbed him by the hood of his shirt and forcibly pulled him out of the car. As the cops rolled him over to arrest him, one officer said he smelled alcohol.
TMZ acquired documents revealing he was not cooperative at the police station. They obtained a warrant and restrained Lynch to draw blood to test for alcohol.
The authorities allege the star was driving under the influence (DUI) as he hit curbs on the side of the road. They charged him with DUI as well as three other driving-related offenses.
Lynch's attorney said law enforcement didn't pull him over for DUI, and evidence will show he is innocent of the charges. The court scheduled the former NFL star to appear in court in December.
Copyright 2022, BrightPress.org