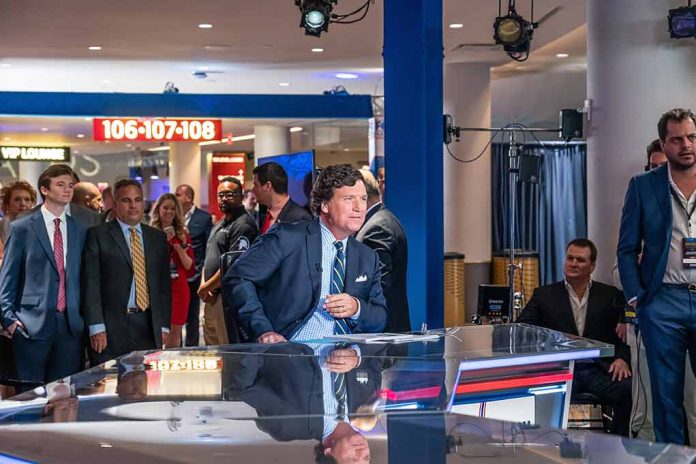 (BrightPress.org) – Biographer Chadwick Moore tweeted on Friday, July 14th, that he was hearing reports from Fox News insiders who were suggesting that the network was banning people from appearing if they had been frequent prior guests on Tucker's show or if they had publicly expressed support for him in the aftermath of being canceled from his show.
Moore himself has been banned from appearing on "Gutfield!" and other Fox programs. Beyond just being a regular guest on Tucker's former prime-time television show, he's also authored "Tucker" a biography of Tucker Carlson which will be released from Simon & Schuster on August 1st.
Former Tucker colleague Gregg Re is still employed by Fox News and said in a tweet that Alabama Sen. Tommy Tuberville (R) is particularly targeted by upper management. Senior executives who allowed him back on the air were allegedly fired after they allowed Tuberville back on without informing the Murdochs.
The claims were contested by Ben Domenech who hosts a podcast for Fox. He simply claimed that the allegations were lies without offering clarification. Moore replied, suggesting that Domenech wasn't informed by management as to who is and isn't on the blacklists given that he's not high enough on the totem poll. Domenech also claimed he's planning on having Tuberville on an upcoming episode.
Respondents pointed out that while Fox hosts his podcast, the content doesn't air on Fox News and likely isn't important enough to warrant blacklisting guests.
Since leaving the network, Fox has lost a significant percentage of their prime-time viewers. Tucker on Twitter originally sourced 26.8 million views on his first episode, but over time the views have dropped to single-digit millions. Tucker and Fox are also arguing over whether or not his show on Twitter violates his non-compete clause, as he is technically still under contract with Fox until December 2024. Lawyers for the network have sent a cease and desist letter, but have yet to file formal civil proceedings against Carlson.
Copyright 2023, BrightPress.org