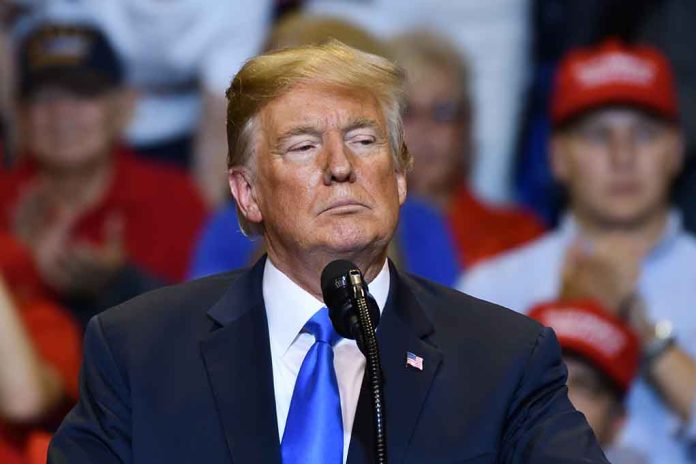 (BrightPress.org) – Emily Kohrs is the lead juror in the Georgia probe investigating whether or not Donald Trump interfered in their state's election processes in 2020 when he said "I just want to find 11,780 votes, which is one more than we have."
The grand jury investigation has wrapped, and Kohrs is doing an incredible round of public relations appearances, seemingly drumming up giddy excitement over the prospect of indictments being handed down.
While writers at the Associated Press are giving her a glowing review, internet commentators are more concerned with the bizarre behavior displayed during her interviews, which seems to suggest a heavy anti-Trump bias coming from the jury foreman.
Other web sleuths have realized that her Twitter account is brand new. MSNBC's Lawrence O'Donnell spewed apologia to explain away her bizarre childish giddiness and exaggerated expressions.
The AP likes to remind readers that Kohrs didn't vote in 2020, or so she claimed. Kohrs elaborated that they decided not to subpoena Trump, citing that they had enough material to work with without attempting to subpoena the former president. During her interview, she claimed that there were "more than a dozen" indictments coming, some household names, some lesser-known.
The AP let readers know that Kohrs was between jobs when she was selected to be on the grand jury, "was" being the operative word. It will be interesting to follow Kohrs after this round of media appearances. Will she be given a book deal or be offered a media gig in the coming months?
Regardless of what anyone thinks of Donald Trump, it's clear that the Democratic establishment is desperate to prevent him from running in 2024. Two attempted impeachments (a historical first), a nonstop media campaign, censoring his speech on major platforms like Twitter and Facebook, and 18 months of congressional hearings blaming him for a riot at the Capitol seem to indicate the corporate left views Trump as the single biggest threat to their political dominance. Will these indictments prevent his 2024 presidential bid?
Copyright 2023, BrightPress.org