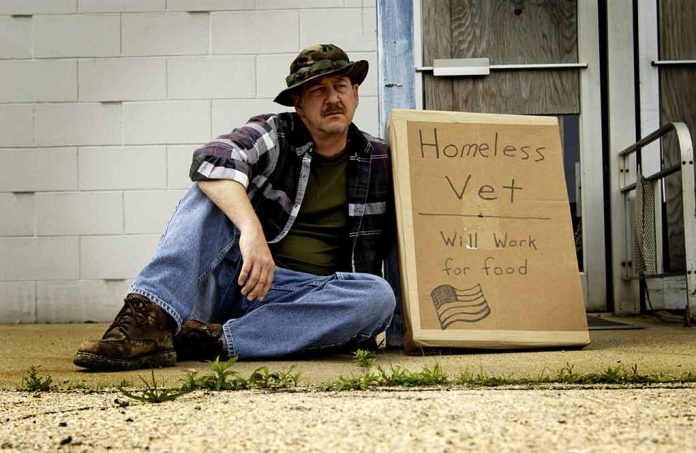 (BrightPress.org) – New York State hotels are relocating 20 homeless veterans to put up illegal immigrants in suburban New York north of the city. The veterans were expecting a 4-week stay at the Crossroads Hotel in Orange County, New York when they were abruptly told they had to move to another area hotel to make room for a group of migrants being bussed up from NYC thanks to a plan by Mayor Eric Adams.
The Yerik Israel Tony Foundation works to secure housing and jobs for homeless, traumatized veterans – some as young as 24 years old and suffering from complications due to deployment in Afghanistan, and many who are older veterans still suffering from events that occurred during their time in Vietnam. 
CEO and a disabled veteran herself, Sharon Toney-Finch, created the organization to help premature babies and to find housing for low-income disabled veterans. She was abruptly informed by the veterans themselves that their original 4-week stays had been canceled after just two weeks, forcing them to relocate the twenty veterans who'd been placed at the Crossroads Hotel. 
Mayor Adams seems desperate to relocate migrants out of New York City despite the fact that local politicians don't want Adams to bus migrants to their districts. All 20 veterans were relocated to another hotel 20 minutes away in the Hudson Valley. Toney-Finch said a lot of the trust they worked to build with these veterans has been severely damaged, as they weren't able to fulfill their promise to house them in a single location until permanent housing could be found. 
State Assemblyman Brad Maher said the issue is important as veterans deserve respect and dignity which should come before making space for illegal immigrants who haven't served our country. Regardless of your personal feelings about migrants coming here illegally, Maher suggested that our responsibility to veteran New Yorkers and Americans comes first.
Toney-Finch said the issue is money. They worked out a deal to house veterans for $88/night, whereas the city covers migrant stays for up to $190/night. The issue is just a microcosmic example of one situation that will likely repeat millions of times over the next few years as millions of migrants flood into the country during President Biden's time in office.
Copyright 2023, BrightPress.org