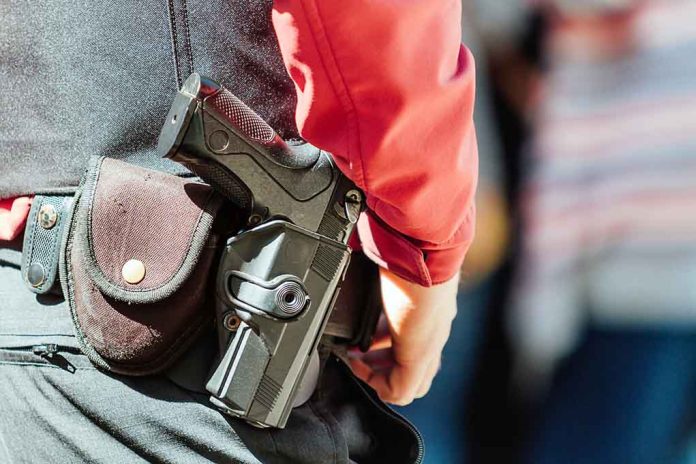 SHOCKING Details Emerge In 'Good Samaritan' Shooter Situation
(BrightPress.org) – On Sunday, July 17, 22-year-old Elisjsha Dicken and his girlfriend visited the Greenwood Park Mall in Greenwood, Indiana. Just before 6 p.m. local time, 20-year-old Jonathan Sapirman appeared from the men's restroom with two rifles and a Glock pistol. The shooter got off 24 rounds, killed three people, and wounded two others before he was taken out by Dicken.
Here's another photo of Elisjsha Dicken, the 22-year-old hero who did what 400 heavily armed officers in Uvalde could not.

He took down the shooter at the Greenwood, Indiana mall with a pistol he was only allowed to have on him bc the state passed Constitutional Carry. pic.twitter.com/RMw5Tm4hnq

— Greg Price (@greg_price11) July 19, 2022
As Dicken approached Sapirman from a distance with his gun pointed toward the assailant, he told people to flee. Within 15 seconds, he fired ten shots and killed the shooter. An autopsy revealed eight of the rounds hit the killer.
Police and local officials have hailed Dicken as a hero. Greenwood Police Chief James Ison told reporters that despite not being trained as a law enforcement officer, his tactics were sound. He noted that if not for the young man's swift action, more people would have died.
Police noted that Dicken lawfully owned and carried the handgun. On July 1, a constitutional carry law in Indiana went into effect relieving gun owners of the requirement to obtain a license to carry a firearm in public. In addition, the state has a "Stand Your Ground" law that says a civilian doesn't have to flee if they reasonably believe force is required to protect themselves or others.
Copyright 2022, BrightPress.org