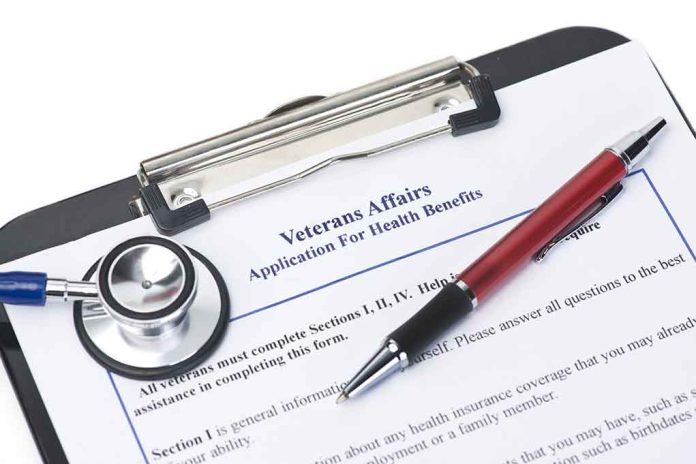 (BrightPress.org) — A new bill coming out of the GOP-controlled House of Representatives will force members of Congress to get their healthcare through the Department of Veteran's Affairs. Will this finally get Congress to realize America's problems caring for injured and disabled foreign policy survivors?
Both representatives and senators are legally obligated to receive benefits via the Obamacare exchange. They're assigned "gold-level plans," where they pay 20% of their costs while taxpayers cover the lion's share.
The VA has been an ongoing sore spot for the federal government since a 2014 scandal revealed the agency was consistently under-reporting wait times artificially creating the false impression veterans were receiving quick access to care. Some vets even passed away while waiting for help. Too many from suicide, indicating the need for quicker and more access to mental health services.
This led to Congress starting a pilot program during the Trump administration. The MISSION Act allowed vets to get access outside the VA system, but that program is already plagued with controversy as the VA has been accused of continuing to under-report wait times which would prevent more vets from taking advantage of the program.
In 2022, Republican congressmen criticized VA Secretary Denis McDonough for changing a link on the VA website, making it more difficult for vets to learn about their eligibility for the program. Why would he do that?
Rep. Warren Davidson (R-OH) is himself a veteran and he believes that forcing congress to get benefits from the VA "as if such members and staff were veterans" would make them more aware of and respond to the major problems with the agency.
"Providing our veterans with the highest quality care is a bipartisan issue on which nearly all members of Congress agree," Davidson said in a prepared statement. Continuing, he elaborated on the need for "consistent and intentional congressional oversight" and reiterated the national responsibility to care for our veterans.
Imagine if Congress got the same standard of care.
Copyright 2023, BrightPress.org