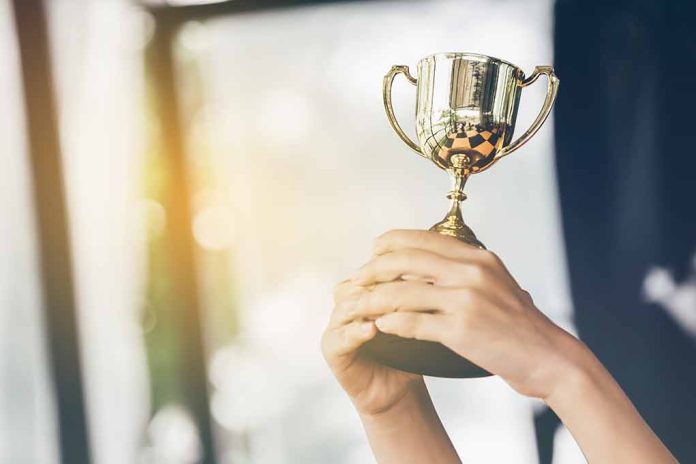 (BrightPress.org) – An English team of anglers saw three out of six quit, including the team's captain, after the organization that runs the competition admitted a man onto the woman's team because he identifies as a lady. 'Becky' Lee Birtwhistle Hodges is a transgender woman who's been stirring up controversy in ladies' fishing since 2018 when she was first admitted to the women's team.
Hodges was the only competitor to catch any fish during a prior competition that was held in rough weather. She's been described by her teammates as having "hands like shovels," which would come in handy for a competition where muscle matters. Strength aids in fishing: from casting farther out to having access to a stronger rod and being able to wade into deeper water. Having more strength and stamina means faring better when the size and quantity of your catch count.
The team captain was adamant in her decision to quit, saying she'd rather have a "rubbish woman" on the team than someone born a male. The international competition will be slanted toward any team that admits men, despite any body modifications they've had in regard to hormones or surgeries.
Another resignee who goes by the pseudonym "Heather" for fear of reprisals told The Daily Mail it was a difficult decision to quit the team, but that her trans teammate's advantage is too obvious and impactful. Outlining her lack of a personal grudge, she elaborated that the strength advantage was too much, making the competition unfair to other teams.
Angling Trust is the organization that makes the decisions about who is on the team and who will be sent to specific competitions. Its chief executive Jamie Cook claimed that they considered whether "fairness" was overridden by "inclusion and safety" and that their board decided that since the spot was non-contact, safety wasn't a concern. While acknowledging that physical strength matters, Cook suggested that other variables like water knowledge, technique, focus, and rig creation were also at play.
Copyright 2023, BrightPress.org