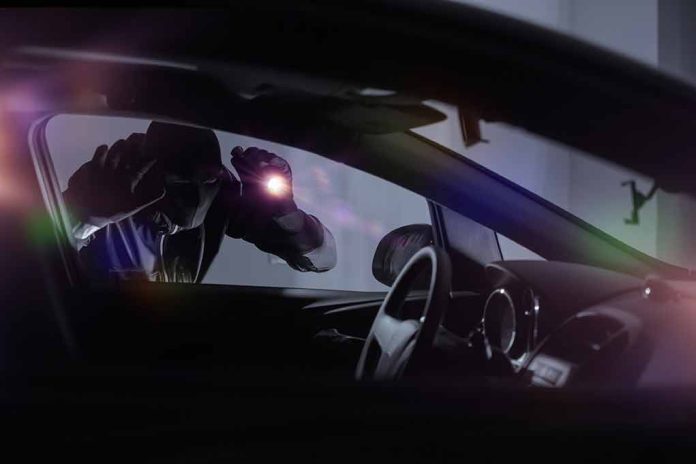 (BrightPress.org) – Seattle Police responding to a burglary call caught the suspect locked in the family's car in their garage with a gas canister in his hands. When police approached he took a swig off the gas can before wiping his mouth.
Police received a call from a 17-year-old girl who was home alone at the time. She reported that a man with a stick was attempting to enter her family's home.
Officers arrived on the scene with no one responding to the door, so they broke it down, concerned for the life of the girl. They found the 40-year-old suspect in the garage. The girl was located upstairs and safely rescued by police. She was uninjured apart from the shock of someone breaking into her home.
As police approached the suspect he took a drink from the gas can, which can be seen on police body cam footage. They engaged the suspect in conversation, who said he wasn't looking for trouble. After a brief interaction, they broke the driver's side window and arrested the man who attempted to take another gulp of gas. Officers removed him from the vehicle and held him down on the ground to make their arrest.
The man was treated by EMTs for poisoning himself and later booked into King County Jail charged with burglary.
Burglary is increasingly a problem in Seattle, with the city logging over 22,000 property crimes in 2023 with burglaries the second most common at 4,750 incidents. Interestingly, of those nearly five thousand burglaries, there were only 602 arrests.
Seattle is plagued with crime, almost a quarter million locals want to leave the city due to the threat of crime, according to information from the US Census Bureau.
Seattle Police Lt. Jessica Taylor retired on August 1st and went public with her scathing resignation letter lambasting the city for its failures in leadership. Taylor retired after 23 years working as a police officer and she described what's happening in Seattle as a "free fall into anarchy and chaos." To give you an idea of just how angry Taylor was, her letter was 15 pages long.
Copyright 2023, BrightPress.org