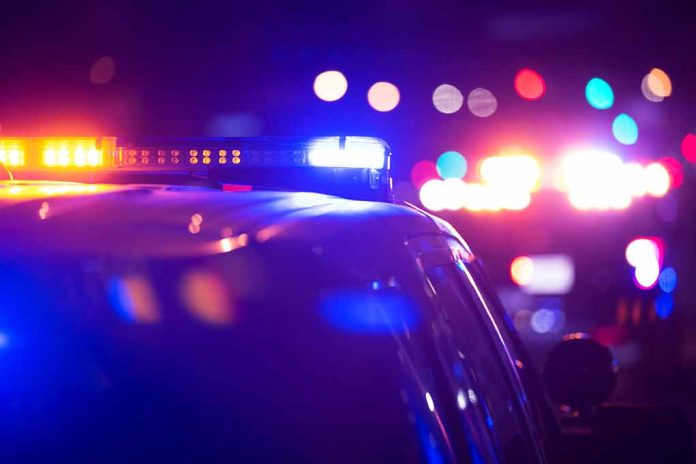 (BrightPress.org) – 19 people were shot, 10 of them killed, when a team of gunmen opened fire at an annual car rally in Ensenada, Mexico, roughly 73 miles from the U.S. border on the Baja Peninsula. The attack began around 2 pm local time on Saturday, May 20th during a two-day all-terrain car and truck rally, according to locals.
It was clear that multiple shooters came from at least two vans that pulled up to a gas station where racers had stopped in the San Vicente neighborhood of Ensenada, according to Reuters and 911 calls. After unleashing a violent volley of bullets, the perpetrators got back into the vans and left. 
Reuters relayed the numerous agencies involved in responding to the tragedy, including local state police, Fire Department, Marines, and the Mexican Red Cross to name a few. 
Video shared on social media shows off-road cars and trucks in a line on the road, the sounds of gunfire and screams were also recorded. The victims can be seen splayed out on the ground. 
There have been no arrests yet, but Mayor Armando Robles of Ensenada, the town in which it occurred, said that the state Attorney General Ricardo Sanchez has empowered a special investigative panel to look into the matter and pursue the attackers. 
The rally was organized by a group called Cachanillazo. On their Instagram page, they offered sympathies for those affected and suggested the attack was well beyond their control.
Mexican Journalist Alfredo Alvarez reported on the shooting, suggesting the attack was the result of an ongoing conflict between the Sinaloa Cartel and Arellano Felix Cartel (CAF). The hit men were allegedly targeting a member of the CAF cartel who was under investigation for drug trafficking in the U.S., that individual was killed in the shooting according to early reports. 
With the expiration of Title 42 and mass migration from South and Central America into the U.S., border violence is at an all-time high. San Diego Border Patrol responded to two additional shootings recently, including one in which police found an abandoned four-year-old a half-mile away from the San Ysidro entry point. 
Copyright 2023, BrightPress.org