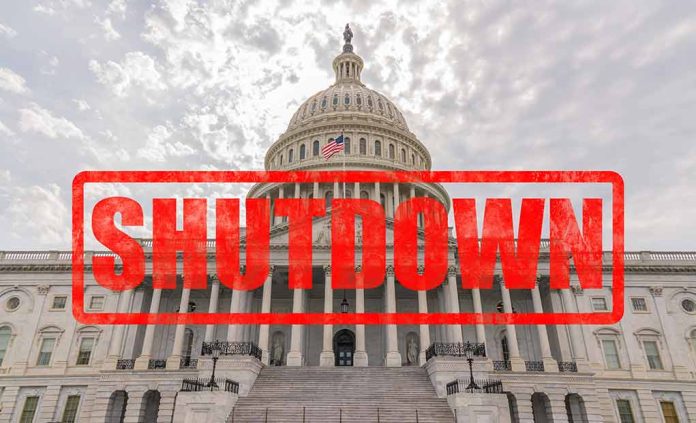 (BrightPress.org) – Republican leadership in Congress is scrambling to prevent a government shutdown come September when their current funding dries up. Summer recess will end for senators and representatives with only 12 days left in the fiscal year for them to finalize and pass a budget to keep things moving through December.
Lawmakers will have to compromise and pass a finalized budget by January 2024 or an automatic provision in the budget compromise agreement would activate, forcing a spending cut of 1% across the board.
Fighting within the Republican party between the House Freedom Caucus and neoconservatives who tend to align with Democrats on spending (especially money for war) has kept several budget proposals in legislative limbo. Conservative Republicans like Rep. Majorie Taylor Green have previously stated that they would tolerate a government shutdown should an acceptable compromise not present itself.
The House Freedom Caucus holds a 40-member chunk of the Congressional Republican membership, and as such they cannot be ignored by Republican leaders like Speaker Kevin McCarthy (R-CA) and Sen. Mitch McConnell (R-KY).
The situation is additionally complicated by a recent request by the Biden administration for more emergency funding, with the lion's share going toward Ukraine and supporting their war effort against Russia. There is additional funding to replenish America's disaster relief funds which have been heavily drawn on over the last few years due to natural disasters like the recent wildfire in Maui.
Conservative Republicans in the House Freedom Caucus are fed up with sending money to Ukraine, which sets up an interesting battle in the coming weeks. The House has passed just one of a dozen proposed spending bills that allocated $317 billion to fund the VA, related projects, and construction projects related to the military. The Senate has yet to advance any spending bills but moved all of them out of committee before the summer break.
Senate Majority Leader Chuck Schumer (D-NY) has previously stated that he supported McCarthy's plan to introduce a stop-gap spending measure.
Copyright 2023, BrightPress.org