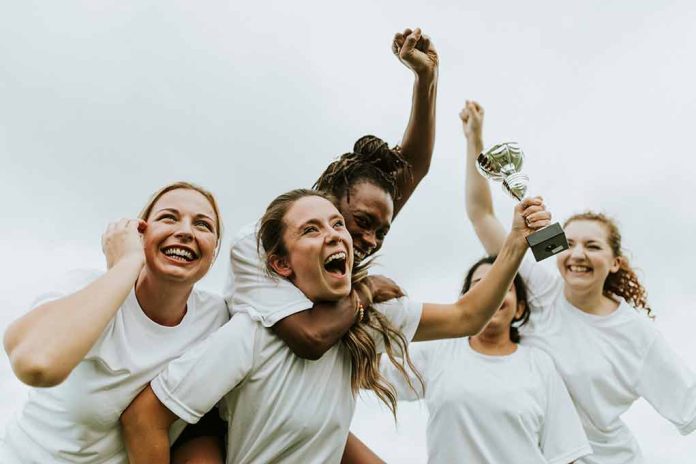 (BrightPress.org) – The Republican-controlled House approved a bill on Thursday, April 20th, that would prohibit federally sponsored universities and schools from allowing biological males to compete in women's sports.
While it was passed 219-203, the measure is largely symbolic as the Democrat-controlled Senate is unlikely to approve it and handlers for Biden at the White House have already promised his veto. Proponents argue that the step is necessary to make sure the competitions are fair. It's well-established that biological men have physical advantages over women, even if they have cosmetic surgeries or are receiving hormone replacement therapy. 
Opponents claim the bill ostracizes a 'vulnerable minority' while seemingly ignoring the impact on women's sports and the near-universal beatification in major media campaigns for transgender individuals. 
The federal bill parallels some 20 other bills working their way through state legislatures to restrict women's sports to biological females. Most people seem to agree that only women and girls should play on teams with women and girls, while the push for the inclusion of transgender women is coming largely from corporate media and radical leftists.
Sponsored by Rep. Greg Steube (R-FL) used the case of Lia Thomas (formerly William), a trans woman who competed in women's collegiate sports. In 2022, Thomas took first place from 2020 Olympian Emma Weyant in the NCAA women's 500-yard freestyle competition. Thomas swam on the men's team for three years with a mediocre performance before transitioning and entering the national spotlight as a first-place 'woman' athlete. Steube indicated that the bill was designed to protect the integrity of women's sports. 
Rep. Aaron Bean (R-FL) suggested that biological men competing in women's sports defeat the purpose altogether and that this is a battle for the existence of these leagues. 
Rep. Pramila Jayapal (D-WA), who has affirmed the controversial practice of her child swapping their gender presentation, suggested Republicans were "cruelly scapegoating" trans children for "political points." Is this a bit of projection on her part? She seems to bring up her adult child at every opportunity to score political points. 
Copyright 2023, BrightPress.org