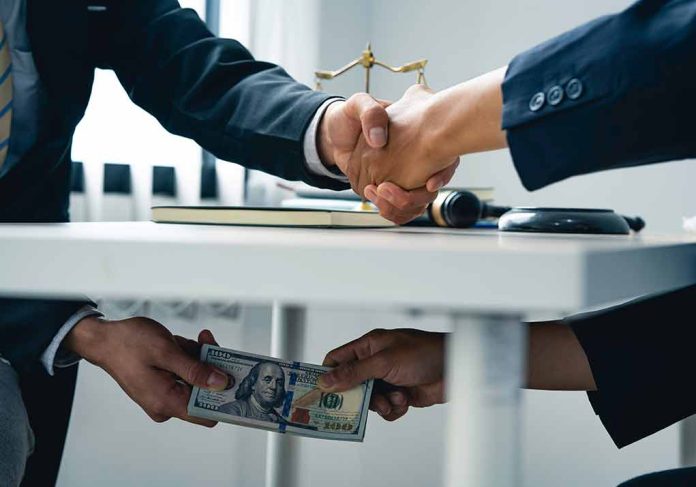 (BrightPress.org) – An IRS whistleblower has revealed text messages from Hunter Biden to his Chinese associate sent in August 2017 in which he said outright he was "sitting here" next to his father while demanding payments. Days later a Chinese firm wired $5 million to Hudson West III, one of many firms holding money for the Bidens. An additional $100,000 was wired to his law firm, Owasco around the same time, according to congressional records.
The Chinese company CEFC Infrastructure Investment sent both wires days apart shortly after the threatening messages from Hunter Biden. Hudson West III was a cooperative firm opened by Hunter and his Chinese business associates in 2017. Both transactions followed the messages revealed last Thursday, June 22nd by the House Ways and Means Committee.
The messages were sent via Whatsapp to Henry Zhao, one of Hunter Biden's many business partners. In the message, he asked "why the commitment made" wasn't executed and suggested the payments be sent "tonight" and suggested Zhao talk with "the director." Zhao is the CEO of Harvest Fund Management, a Beijing-based firm back in July 2017.
In a follow-up message, Hunter Biden threatens the possibility of him forever holding "a grudge" and suggested Zhao "will regret" his failure to follow instructions. That was followed by a reference to him setting next to his father, the same way he opened the tirade.
The Senate report also revealed 20 wire transfers from Owasco to Lion Hall Group. That company is a consulting firm connected to Joe Biden's brother James, and his wife Sara. The transactions went on for about a year and totaled $1.4 million. These transactions resulted in a series of suspicious activity reports triggering the original investigation into Hunter Biden's financial wizardry.
IRS whistleblower Gary Shapley Jr. testified that investigative decisions were "influenced by politics." The investigation was almost designed to benefit Hunter Biden, according to Shapley, who spoke to the House Committee about the steps being slow-walked, enforcement actions skipped, and massive delays around election seasons. Shapley said these are only "a few examples" of what he witnessed.
Hunter Biden's lawyers deflected, claiming that the period in question was "a time of turmoil" for their client. They further suggested the allegations of politics impacting Hunter Biden's sweetheart deal were "preposterous."
Copyright 2023, BrightPress.org