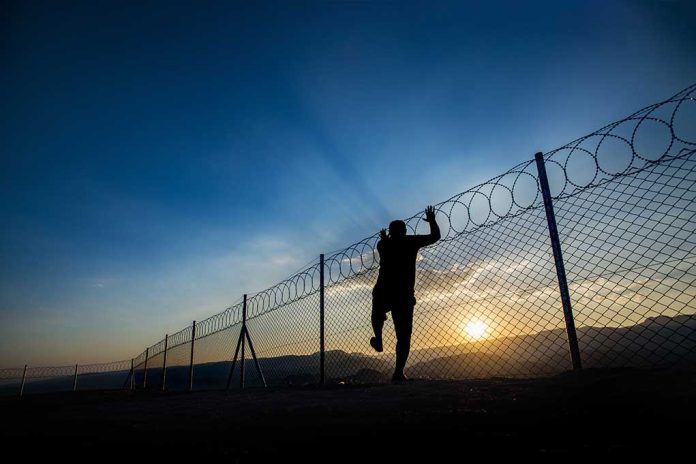 (BrightPress.org) — One of the major problems with having an effectively open border is that terrorists and criminals can easily hide among the swarms of migrants and asylum seekers. Texas Department of Public Safety (DPS) caught an Iranian suspected terrorist in late January 2023 when they checked a smuggler's vehicle at the border in Val Verde, Texas.
29-year-old Alireza Heidari was arrested and detained with four other illegal immigrants and was promptly transferred to Border Patrol who later determined he was a fingerprint match for someone on the FBI's Terrorist Screening Database (TSDB), according to Fox News.
National Border Patrol Council President Brandon Judd thanked the hard work of Texas DPS for the bust. "If not for the work of Governor Abbott and Texas DPS, Alireza Heidari would be at large on our streets today," continuing Judd reiterated that Heidari entered illegally and was evading detection with a probable intent to do harm to Americans. He also blamed Biden for the border crisis and cited the arrest as proof the president's policy of tolerance is dangerous.
So far, in fiscal year 2023, almost 300,000 border crossers evaded apprehension by Border Patrol, according to sources who spoke with Fox News. The trend is increasing, with only ~400,000 escaping in FY2021 and 600,000 in FY2022. Agents have suggested over 1.2 million illegals have successfully entered and evaded detection by police or border patrol during the Biden administration.
The FBI watchlist indicates individuals are "reasonably suspected" of terrorism or other violent activities. In December, Border Patrol stopped 17 people who were flagged on the list. The number of terrorism suspects arrested trying to illegally enter the country via the southern border has risen dramatically in recent years: from just three in FY2020 to 98 in FY2022.
This would suggest that as more and more illegal immigrants cross the southern border, criminals and terrorists known to authorities will hide among their number. How many will effectively use the current crisis to evade detection?
Copyright 2023, BrightPress.org