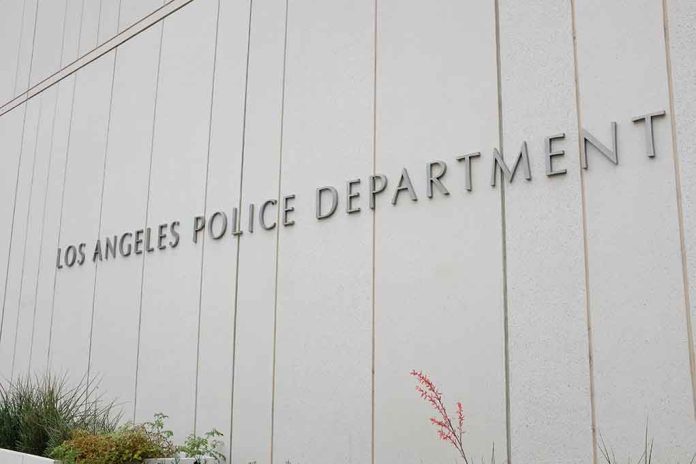 LAPD Officer Died After Investigating a Gang Rapist
(BrightPress.org) – LAPD Officer Houston Tipping, 32, went to a routine training exercise in May as a bicycle instructor and left in an ambulance as a dying patient. After he succumbed to injuries sustained during what the department says was an accident, the deceased cop's family retained legal counsel to sue the city for wrongful death.
LAPD officer Houston Tipping died after a training exercise during which he was beaten & slammed to the ground by other cops. Now his lawyer says at the time he died he was investigating a gang rape by 4 cops, at least one of whom was part of the exercise. pic.twitter.com/hah4hztyx2

— Rebecca Kavanagh (@DrRJKavanagh) October 4, 2022
On October 3, attorney Brad Gage announced the suit along with some serious allegations that go far beyond an accident claim. He and the Tipping family believe the young officer was murdered for coming forward as a whistleblower. After taking an incident report of a gang rape in June, Tipping began investigating four fellow policemen, one of whom was at the training exercise.
According to the city, the incident occurred during a grappling exercise with another cop. Tipping fell to the ground, causing catastrophic damage to his spinal cord. Others on the scene tried to keep him alive with CPR, but he died from his injuries shortly thereafter. The family's attorney says that story is bogus.
The lawyer told reporters that Tipping suffered far more than he would have during any genuine training exercise, alleging that he was beaten to death by fellow officers for investigating his own. He had bruising on several spots on both sides of his body, a lacerated liver, and spinal cord damage that rendered him paralyzed until he passed. The LAPD denies any wrongdoing.
Copyright 2022, BrightPress.org