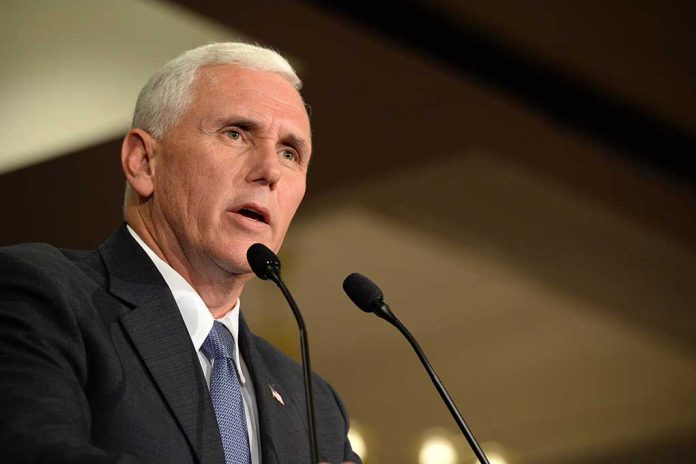 (BrightPress.org) — Former Vice President Mike Pence appearing on "America Reports" has publicly stated that he hopes Donald Trump is not charged with any crimes relating to the events of January 6th, 2021.
Saying that congress has "no formal role in Justice Department decisions," Pence expressed his wish to see us heal as a nation. He also elaborated on the seriousness of the DOJ charging a former president with crimes. It would be a huge break with American jurisprudence, and could stroke further division when most people are focused on family and looking forward to the new year.
He added that taking bad advice from lawyers isn't necessarily criminal, to which anchor Dana Perino suggested we might see criminal referrals for his lawyers as well.
This conversation comes on the heels of congress finally finishing its 17-month 'investigation' into the events of January 6th, 2021 on December 19th, 2022. The committee was slanted against Trump and kept its focus on the former president, choosing to sideline or ignore criminal negligence or malfeasance by organizations like the FBI.
Their executive summary exclusively blames Trump for the events of that day while making criminal referrals for charges like making false statements, obstructing an official proceeding, defrauding the United States, and assisting or aiding an insurrection.
Major takeaways, according to CNN, include things like "All Roads Lead to Trump" and the "bi-partisan" nature of the committee. Republicans Adam Kinzinger and Liz Cheney have been called Republicans in name only, or RINOs and as members of the committee they regularly echoed sentiments from their Democrat colleagues. Was this truly a bi-partisan effort or was the outcome determined in advance?
Consider Rep. Kinzinger's words in his farewell address (he lost re-election in his district): "The Republican party used to believe in a big tent… now we shelter the ignorant the racist and only stroke hatred for those that are different than us…" Would a true Republican call his party ignorant, racist, and hateful?
Copyright 2022, BrightPress.org