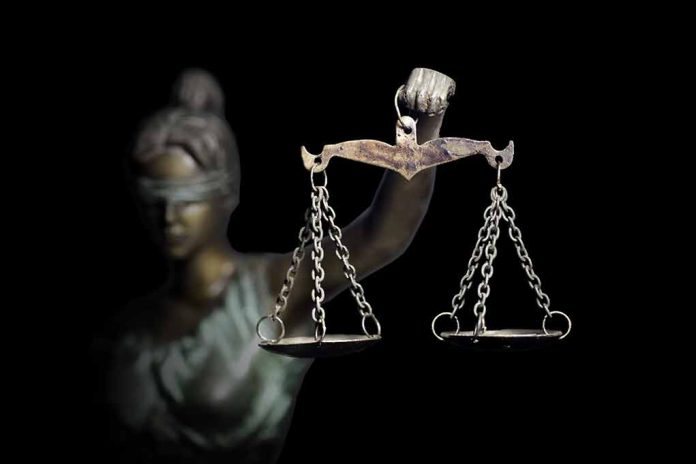 (BrightPress.org) – A 61-year-old grandmother and cancer survivor spent more time in jail for misdemeanor trespass charges for entering the Capitol on January 6th, 2021 than Hunter Biden has spent after 5 years of investigation culminating in a sweet-heat deal made between his father's Department of Justice and Hunter's lawyers.
Hunter Biden's tax and gun crimes were pleaded down to misdemeanors, while a 69-year-old grandmother, substance abuse treatment advisor, and cancer survivor had to spend 60 days behind bars for taking a video after unlawfully entering the Capitol on January 6th.
The president's son will plead guilty to two counts of failing to pay his federal income taxes and one misdemeanor for possession of a firearm by a drug addict. Hunter Biden made over $1.5 million per year in 2017 and 2018 and owed easily over $100,000 in taxes for each year which he never paid. He was also seen flashing a firearm on the infamous laptop he left at a repair shop in Delaware and never retrieved while in treatment for drug addiction.
Hunter Biden's crimes carry maximum penalties of a year in prison on each tax charge and ten years on the gun charge. The gun charge will be somewhat mitigated by a pretrial diversion program that allows "alternative systems" of punishment for offenders who complete substance abuse treatment programs or mental health counseling. Once completed, the charges can be reduced or dismissed altogether.
Chris Clark, one of Hunter Biden's attorneys, said that he believed this agreement marks the end of the five-year investigation into the President's son. U.S. Attorney for Delaware David Weiss said that "the investigation is ongoing," as of Tuesday, June 20th, however. Weiss also said that a federal judge will decide on the sentencing for Hunter.
Hunter Biden has been under investigation for tax improprieties after a number of suspicious activity reports flagged large financial transactions between himself and foreign entities in China and Romania. He's currently being scrutinized by the House Oversight Committee due to his involvement in taking bribes in exchange for his father's cooperation as then-Vice President.
Copyright 2023, BrightPress.org