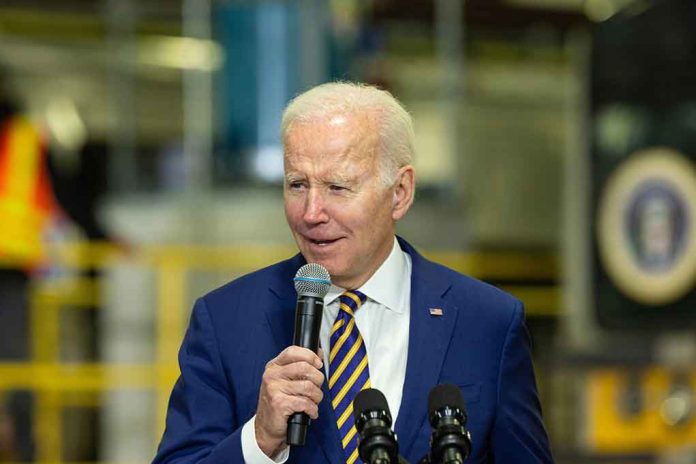 (BrightPress.org) – The President had a little trip-up climbing the stairs to Air Force One on Wednesday the 22nd of February while he was boarding the plane in Warsaw, Poland. Video revealed Biden, 80, stumbling as he reached the top of the stairs before completing his climb and turning to wave to the crowd.
Delivering a lot of anti-Russian rhetoric, Biden played up 'democracies' gaining strength around the world while taking shots at Russian President Vladimir Putin. "Every day the war continues, this is his choice," Biden said. Ignoring the potential for the West and NATO to ignore the conflict or cease involvement, Biden projected all agency onto Russia as if they were the sole instigator and agitator in the region.
Biden has repeatedly been mocked for difficulties navigating three-dimensional space. White House Press Secretary Karine Jean-Pierre blamed the wind, claiming she almost fell herself.
The Democrats don't seem to mind if a new NPR poll is any indication. That poll showed that half the left-leaning respondents believed the Democrats had a better chance of winning with Joe Biden as the candidate. That's an uptick from a previous poll in which only 38% of liberals felt he was the best bet at the time. 45% of respondents would prefer another candidate, and 5% were unsure.
The poll queried conservatives as well, with 42% believing the best candidate to win is Donald Trump, and 54% believed another candidate would offer a better chance at winning the presidential contest. That's also an uptick from the previous poll, where only 35% of conservatives thought Trump offered the best chance at winning.
As much as folks tend to despise both candidates, there aren't videos of Trump falling, stumbling, and appearing lost in public. He advanced peace talks with North Korea, planned an end to the Afghanistan war, and avoided starting any new wars. He also managed to show up in East Palestine before Biden or Transportation Secretary Pete Buttigieg.
Copyright 2023, BrightPress.org