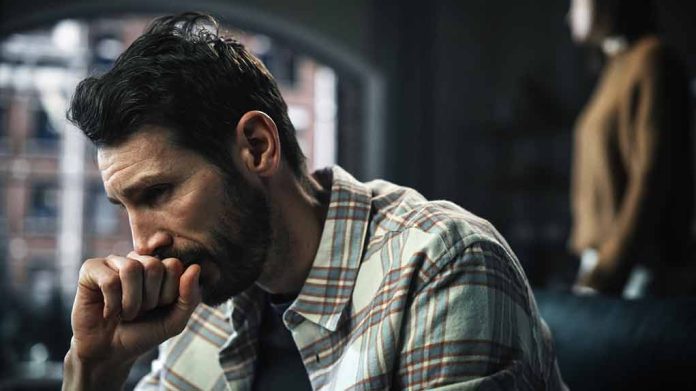 (BrightPress.org) – Senator Josh Hawley (R-MO) is blaming the media and D.C. officials for a crisis among American men where they have damaged the cultural relationship to and image of masculinity. His new book, "Manhood: The Masculine Virtues America Needs" targets exporting of American manufacturing jobs overseas to the difficulty American men face finding gainful employment in the U.S. According to his estimates, 4 million manufacturing jobs went to China, including sixty-thousand from his home state of Missouri. The loss of those jobs damaged communities and hurt families, Hawley said, characterizing the harm as a "bloodbath."
Hawley called the exporting of American jobs "idiotic" and "still extremely popular" with the denizens of Washington D.C. 
He then aimed at the corporate media and entertainment complex which favors "androgynous consumers." His book also discusses the leftist woke gender ideology which has invaded the corporate sphere, and how it caters to a "women are better" rationale that not only harms the morale of young men and boys but also just isn't true – both the sexes have their strengths and worth in society. They want men to be more compliant – Hawley called this agenda the left's "dirty secret."
He also said that they want women to be more androgynous as well, as traditionally masculine traits are celebrated when women engage in the behaviors. The left even likes to parrot the phrase "the future is female." 
Hawley drummed on the point that consumerism and materialism are promoted by both corporate and political leadership and that male role models are generally poor. He cited disgraced influencer Andrew Tate who has been arrested in Romania on charges of rape, organized crime, and human trafficking. Tate is mostly known for regarding women as objects and encouraging young men to do the same. His business practices are controversial, if not illegal in some countries, including using women to lure men into digital relationships while they milk them for money, of which Tate keeps the lion's share. Hawley says he's bought the leftist lie about masculinity being toxic and embraced it, instead of attempting to behave in a mature and honorable fashion. 
Hawley hopes his book and a fresh perspective on masculinity can highlight the good and noble aspects of men in society. 
Copyright 2023, BrightPress.org