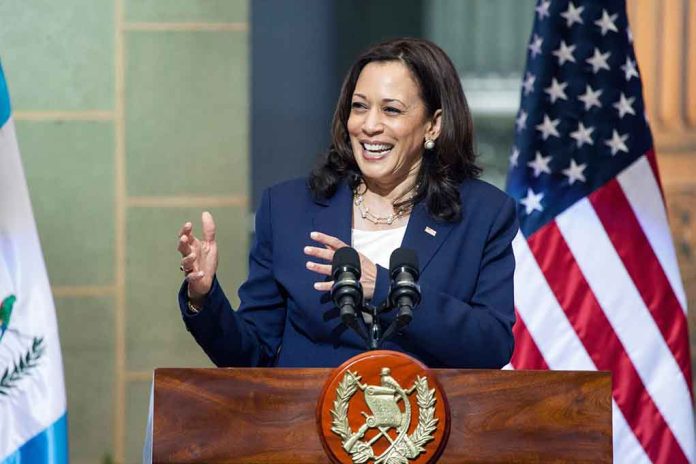 (BrightPress.org) – First female Vice President Kamala Harris had a chat with Politico to give one of her famously delicious interviews. This one was by phone, so no video, and the big takeaway was that she did not anticipate the recent fiasco with the military shooting down a Chinese spy balloon to impact our relations with China.
"I don't think so, no," she said when asked about it affecting the relationship between the two global superpowers.
"We seek competition, but not conflict or confrontation," Harris remarked when asked about the administration's approach to China. She claimed that the events of the past few weeks were "very consistent with our stated approach."
You may recall the U.S. shot down multiple objects over the last few weeks. The first was a Chinese spy balloon that stole everyone's attention as Pfizer was being exposed by undercover Project Veritas journalists. The military made a big show of doing nothing about it until it was over water, off the coast of South Carolina, days after it had first been detected.
Biden claimed he'd ordered it shot down immediately as soon as he was informed of its existence, but that the Pentagon suggested it was too dangerous and that they should wait until it was over water. Then followed a series of other objects being shot down by U.S. and Canadian forces. They called these UFOs, though, just to keep things interesting.
Harris is on her way to Munich where she'll participate in an international security conference. Secretary of State Anthony Blinken will join her and may meet with his Chinese counterpart.
This will be her fourth trip to Europe since the start of the Ukrainian war. Her first time, she promised U.S. support and suggested he prepare for the invasion that followed. She returns to lobby for continued war in Europe, despite the instability and threat of global nuclear annihilation. Harris strung together phrases like enduring commitment, sacrifice, and defending foundational principles in order to blindside listeners into thinking more war is a good thing.
She also pointed out that a number of Republicans have consistently voted for more support for Ukraine, despite rhetoric to the contrary.
Copyright 2023, BrightPress.org