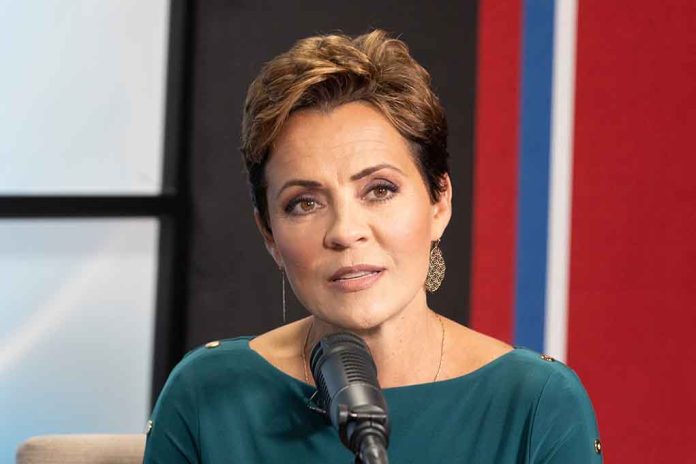 (BrightPress.org) – An event at which Republican Arizona Gubernatorial candidate Kari Lake was speaking was threatened by a "scruffy and big" man over the weekend on February 11th. The venue where she was holding a rally filed a police report in response to the bizarre behavior and threat from the man who "declared he was God" and threatened to plow his vehicle through the venue doors. The event itself was held in Iowa.
The Star gained access to the police report, which describes the man entering the bar, proclaiming himself to be God, advising the bartender that purple was his favorite color and to "remember my shirt." He then left before officers arrived on the scene. The bartender was so concerned, he parked his truck in front of the back door to impede a potential ram attack.
Lake spoke to the crowd of roughly 250 people inside the duly named District Venue in the early caucus state, expressing her support for Donald Trump's 2024 bid for president. Police scoured the area, but failed to pursue the man who was described as driving an older yellow Jeep Renegade.
The crowd responded positively to her message, and reporters on the scene noted it was a very MAGA-friendly crowd given the display of hats and t-shirts bearing the slogan.
After having lost her bid for governor of Arizona, Lake continues to challenge the results of that contest in court. Currently, her team is appealing the initial decision to the Arizona Appeals Court. With a number of irregularities, an extended count window, and thousands of disenfranchised voters, Lake maintains that she won the election and that the result will be determined at some point in court.
Kari Lake has been decried in the corporate press for her refusal to accept the suspicious outcome. Her claims paralleled those of Donald Trump during the 2020 election, who still maintains that the outcome was rigged.
This isn't the first time Lake has been harassed by weirdos. In November 2022, her campaign headquarters in Phoenix was sent an envelope with unidentified white powder in the days leading up to the election. They were forced to close the office, no doubt pleasing Arizona democrats.
Copyright 2023, BrightPress.org