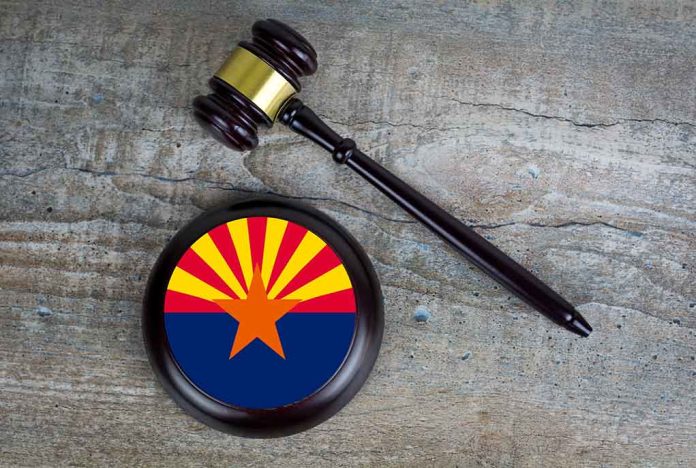 (BrightPress.org) — Arizona has been the focus of media attention when it comes to elections. Both in 2020, and in 2022 there was controversy surrounding the election protocols and procedures in Arizona, specifically in Maricopa county.
Republican Kari Lake was narrowly defeated in her bid for governor by Democrat Katie Hobbs by a razor-thin margin of seventeen thousand votes last November. The election has been contested due to multiple problems on election day. Hobbs is also the Secretary of State in Arizona and refused to recuse herself, certifying her own election in what many considered a clear conflict of interest.
Viral videos showed folks having trouble feeding their ballots into the scanners, and many Arizonians reported feeling disenfranchised by the difficulties.
As a result, Kari Lake sued in Arizona Superior Court to challenge the certification of the election. The week of December 19th, her team had their opportunity to combat challenges to dismiss the case by Katie Hobbs.
While the judge has dismissed eight of ten counts, two counts proceeded to trial. Lake's team had to prove there was intentional interference in the election that altered the outcome. To do so, they focused on a key factor in the paper ballots: they're too small.
Ballots in Arizona are required to be twenty inches in length. Clay Parikh, a cybersecurity expert with Northrop Grumman, testified that he saw proof that the ballots were printed on 19-inch paper. Confirming the irregularity, Maricopa County Elections Director Scott Jarrett said, under oath, that there are only 20-inch ballots. He further reiterated that 19-inch ballots do not exist.
During cross, attorneys for Maricopa pointed out that regardless of their size, all ballots were counted.
The other claim by the Lake team is that an unknown number of ballots were added to the chain of custody. In Arizona, if there isn't a clear chain of custody the ballot is considered invalid. Lake's team tried to prove in court that the margin of victory was padded with invalid ballots during. However, no evidence was actually presented at trial to bolster that claim.
After closing arguments, Maricopa County Superior Court Judge Peter Thompson who oversaw the trial, signaled he would deliver his decision soon. He has five days to render that decision.
Copyright 2022, BrightPress.org