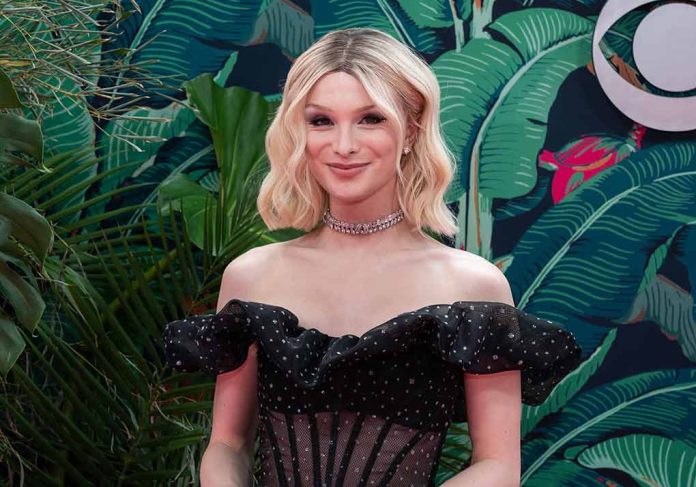 (BrightPress.org) – Infamous transgender influencer Dylan Mulvaney was spotted on the red carpet with Tony the Tiger, brand ambassador and mascot for Kellogg brand cereals. Mulvaney, 26, was featuring a new blonde dye job with a black-diamond embellished evening gown and a mesh corset that showed off her shoulders. Tony the Tiger was wearing a red bowtie instead of his signature scarf for the formal event.
Tony was kind enough to help carry Mulvaney's train while they posed for multiple photographs and exchanged laughs.
Senior director of brand marketing Laura Newman told Fansided that Tony "was thrilled" to be involved in the festivities and hinted at Tony's involvement in the afterparty where he presented gold-filled cereal bowls to the guests.
The interaction left people wondering if the brand is hinting at a planned collaboration with the controversial TikTok character whose claim to fame is a chronicle of her journey into "girlhood." If so, that could spell trouble for the stock value of the cereal conglomerate.
Mulvaney's recent partnership with Bud Light ended in disaster for the company, the backlash was so intense Fox News estimated a loss of $27 billion in stock value after consumers largely rejected the association. Other companies suffered similarly, Nike, Cracker Barrel, Target, and more seem to suffer financial losses related to associated with Mulvaney or by offering pride-related merchandise for children.
Target was blasted for selling pride gear that included "tuck-friendly" swimwear for trans women who want to be less conspicuous. They suffered losses estimated at around $15 billion after consumers got irate online and announced a boycott of the store. They eventually ceased the collaboration with the vendor of that particular item, an edgy UK-based designer with a propensity for Satanic imagery. Target also moved its pride display from the front of some stores or took it down altogether.
It is unclear whether Target's backtracking will satisfy customers turned off by the store's recent choices.
Copyright 2023, BrightPress.org