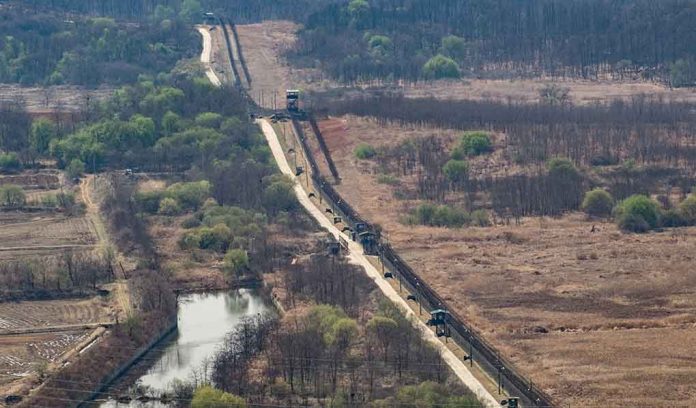 (BrightPress.org) – North Korean officials seem to be ratcheting up aggression and inflammatory language aimed at their southern neighbor and several of its key global allies. The country has conducted an unprecedented number of weapons tests over the past year, several of which involved long-range missiles. Dictator Kim Jong-un's sister, Kim Yo-jong, is now taking aim at South Korean Defense Minister Suh Wook.
Threats Against the South
North Korea confirmed that it successfully tested a long-range nuclear-capable ICBM on March 24. At the time, Jong-un also vowed to continue building up his military to make it more capable of carrying out potential attacks.
South Korean Defense Minister Suh Wook responded to Jong-un's remarks with a threat of his own, infuriating the North. He blasted North Korea for proving the two were clearly enemies, suggesting the south had access to a variety of missiles with tremendous firing range, accuracy, and power. If provoked, it could apparently quickly hit any target in North Korea.
The remarks allegedly enraged Kim Yo-jong. She called Wook a "scum-like guy" and slammed him for daring to mention a preemptive strike when North Korea allegedly has nuclear weapons. Yo-jong then went on to warn the South that they might "face a serious threat," blaming the situation on "reckless remarks made by its defense minister."
In September, North Korea promoted Yo-jong to the State Affairs Commission, the country's top decision-making body. She was already the communist country's most powerful woman. Now she's planted firmly next to her brother, fueling speculation she could become Kim Jong-un's successor.
Tensions Rise Over Increased Sanctions and New South Korean Leadership
The United States recently increased sanctions on North Korea in response to the country's nuclear-capable missile launches, which defy UN resolutions. The new sanctions provoked the North to schedule yet another launch in the coming weeks.
The impending inauguration of South Korean President-elect Yoon Suk-yeol is another potential root cause for increased tensions. The South will install its next president in May.
During a January press conference in Seoul, Yoon Suk-yeol stated that preemptive strikes might be the only way to counter North Korea's new hypersonic missiles if the rogue nation appears to direct them toward Seoul. He also vowed to boost military deterrence, strengthen relations with the United States, and establish a permanent three-way dialogue between the US, South, and North Korea.
Kim Yo–jong's statement comes as North Korea prepares to launch another military missile test. Officials from the dictatorship blame their growing need for military forces on developing ties between South Korea and the United States. Officials expect tensions between the two Koreas to intensify in the coming months.
Copyright 2022, BrightPress.org