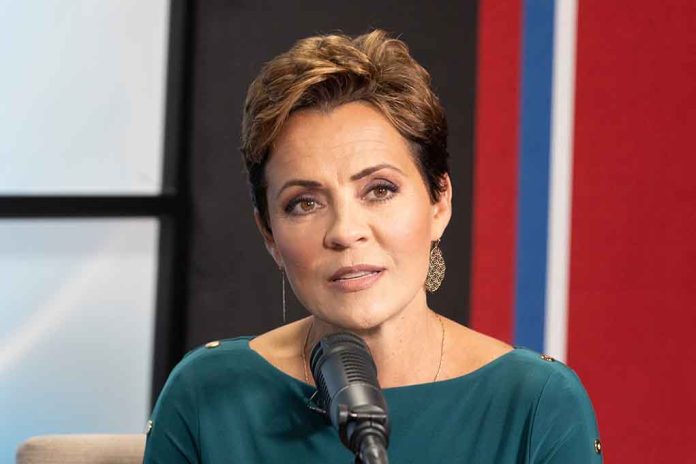 (BrightPress.org) – Former Arizona gubernatorial candidate Kari Lake told Newsmax that the latest indictment against Donald Trump will cause him to gain even more support from conservatives.
Speaking on "Eric Bolling The Balance," Lake called the indictments "election interference," suggesting that they're political weapons in order to prevent Trump from running for office again in 2024. She further suggested that each additional indictment only emboldens and widens his base of supporters.
Speaking about election interference, Lake suggests that this level of political antagonism against the administration's opponents is something we've never seen before. Lake's comments were in response to the latest filing by Special Counsel Jack Smith in relation to the rally at the Capitol on January 6th.
Smith's new indictment alleges Trump engaged in a conspiracy to defraud the U.S. as well as attempting to interrupt the peaceful transfer of power. Trump's expected in D.C. courts for his arraignment in relation to the charges on August 3rd.
This is the second indictment to come from Smith, his first was in regard to the documents Trump had with him at Mar-A-Lago. Smith added Carlos De Oliveria to the list of co-conspirators in addition to Trump and his aide Walt Nauta.
Trump is also accused of falsifying business records in a New York case conjured by George Soros-sponsored District Attorney Alvin Bragg.
Lake further suggested that the charges against Trump when compared to the DOJ's kid-glove treatment of Hunter Biden demonstrate without a doubt that there's a double standard between the treatment of friends and enemies of the administration.
Lake's comments were echoed by House Oversight Committee Chairman James Comer (R-KY) in his comments to Newsmax. Comer suggested the Department of Justice is completely weaponized against conservatives during an appearance on "Rob Schmitt Tonight." He suggests Biden is guilty of some of the greatest political crimes ever. Lake suggested Biden and members of his family should be in handcuffs for their litany of corrupt behavior and abuse of political power.
Copyright 2023, BrightPress.org