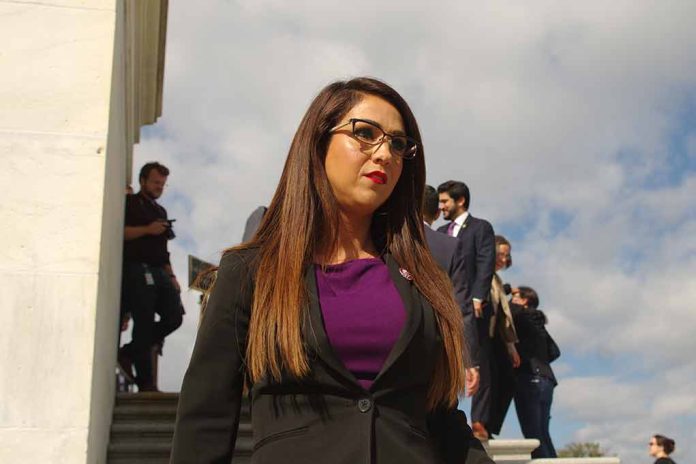 (BrightPress.org) – Rep. Lauren Boebert spent money at her date's bar shortly before their scandalous viewing of Beetlejuice in Colorado in July, according to recent campaign filings.
Her campaign covered $317.48 at Hooch Craft Cocktail in Aspen, Colorado. That's the same bar her date Quinn Gallagher owns. Gallagher was the man seen getting frisky with Boebert during the performance on the venue's hidden cameras.
The couple was caught on night vision cameras fondling one another during the family-friendly performance. She was also seen vaping on video, despite her denials blaming fog machines and special effects at the show.
After complaints, house staff asked Boebert to leave due to the general disruption. When she denied accusations of bad behavior, someone at the venue decided to leak their hidden camera footage which clearly showed the couple engaged in adult activities while seated.
It was also clear Boebert was vaping and had been chastised by a person sitting behind her. She eventually issued an apology after the incident gained national attention. She can be seen being escorted out of the venue and flipping off staff after she was warned that the police were summoned.
Boebert later confessed she hadn't screened her date very well and wouldn't be seeing Gallagher again.
Hooch, his bar, is gay-friendly and has hosted drag performances in the past. Whether or not those particular events had children in the audience is uncertain. Most drag shows are for adults and occur at venues like bars late into the evening. The phenomenon of encouraging drag shows for children is a recent one.
Boebert's campaign manager Drew Sexton said that covering food and drink when meeting with donors is basic for any campaign.
Boebert recently said she'd vote to remove the rule on motioning to vacate the current Speaker if Jim Jordan assumes the role. She said the rule was there to ensure promises are kept by potential RINOs like McCarthy, but Jordan had proven himself trustworthy and she didn't think the rule was necessary if he held the speakership.
Copyright 2023, BrightPress.org