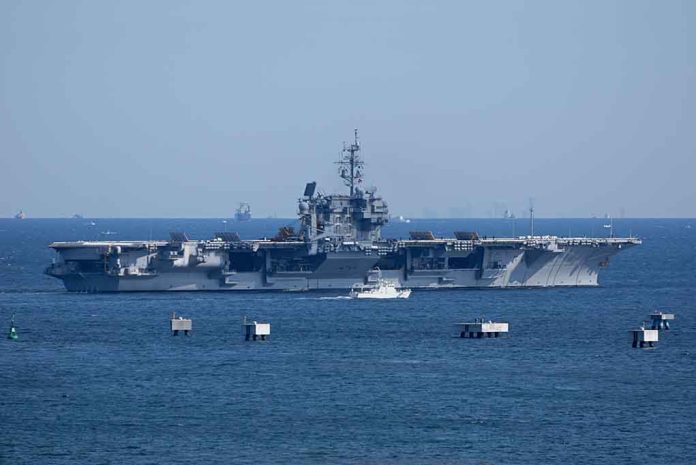 U.S. Aircraft Carrier To Be DESTROYED – Is This Wrong?
(BrightPress.org) – In 2009, the US Navy decommissioned the USS Kitty Hawk. It was the last aircraft carrier of its class and one of the Navy's first supercarriers. First commissioned in 1960, the ship and her crew developed a strong reputation within the Navy for excellence. During the height of the Vietnam War in 1969, the massive nuclear-powered aircraft carrier was awarded a Presidential Unit Citation for its impressive combat role in the Tet Offensive. In 2003, it saw action once again in the Iraq War.
On Tuesday, May 31, the Kitty Hawk finished a 16,000-mile journey from Bremerton, Washington, to the Gulf of Texas. The government will now scrap it for metal.
The ship went south along the West Coast and through the Pacific before turning back north at the southern tip of South America. Since 2009, the Kitty Hawk has sat at the Navy's Inactive Ships Maintenance Facility in Bremerton.
Hundreds of spectators watched the ship as it approached a Texas port, tugboats pushing it to its final resting place. Those in attendance included former sailors who served aboard the storied ship, which was named after the North Carolina town where the Wright Brothers flew their first plane. The move killed any hopes of the Kitty Hawk becoming a national museum. Officials say there isn't a place for the ship to call home that could handle its size and doesn't already have an aircraft carrier as a museum.
In July, International Shipbreaking Limited will begin breaking the ship down. Company officials say the process will take approximately 18 months.
Copyright 2022, BrightPress.org