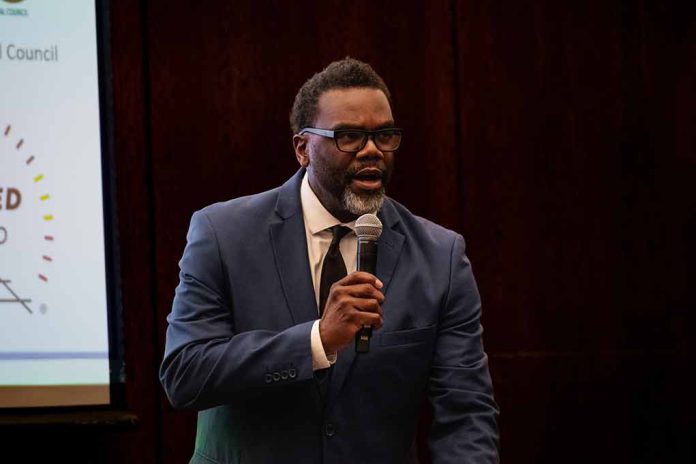 (BrightPress.org) – Chicago Mayor Brandon Johnson was upset that a reporter used the term "mob" to describe a lawless horde of roughly 400 teenagers who swarmed a 7-11 convenience store, looting products and knocking over shelves in his city. The infamous "teen takeover" events are sporadically organized on social media and involve hundreds of young people gathering during the evening in public parts of the city.
The newly installed mayor believed it was inappropriate to describe the horde as a mob, and chastised a reporter for describing it that way. Calling them "large gatherings" instead, the mayor suggested it was important to accurately describe these things, ignoring that the definition of mob includes "large, disorderly crowds."
He described the need for arrests as unfortunate, and acknowledged that "some damage was caused" while offering appreciation to Chicago police for handling the unruly young crowd with "sensitivity and patience."
Johnson refused to condemn the horde or their lawless behavior. He failed to ask parents to reign in their rowdy children. He won't even go as far as suggesting the outbursts are unacceptable, despite the danger they pose to the teens themselves and the surrounding community.
Johnson had previously defended lawless teens during another incident in April where teens destroyed cars, started fights with one another, and started fires in parked vehicles they broke into. He then claimed that demonizing the youth involved was not "constructive" and offered apologia due to some of these teens being allegedly denied "opportunities" that he refused to elaborate on. In that incident, he did condemn the outburst as "unacceptable," something he refused to do this time around.
Johnson's attempts to paint these delinquents as enacting crimes of necessity or otherwise crying out for aid were met by harsh critique from conservatives who believe that these kids need harsh swift punishment that their parents seemingly refuse or are unable to dole out.
They criticize Johnson's willingness to excuse the behavior prevents the kids from learning about responsibility and the consequences of their actions, as well as increasing the likelihood of further bloodshed and property damage during the next "teen takeover."
Copyright 2023, BrightPress.org