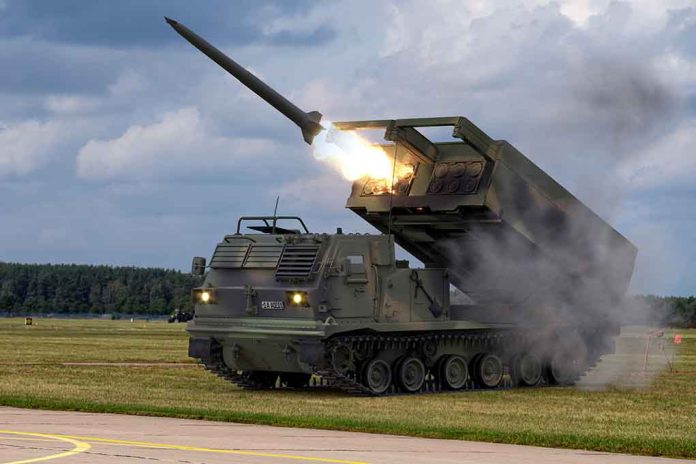 Lockheed Martin Wins Huge Military Contract
(BrightPress.org) – On November 14, US Army Public Affairs published a statement confirming more than half a billion dollars in contract awards with Lockheed Martin. The company produces Guided Multiple Launch Rocket Systems (GMLRS), a vital tool for Ukraine in its defense against Russia's invasion.
The contracts for a stockpile of the systems will replenish the current US supply, which is dwindling from shipping stores to Ukraine, and provide adequate support to Kyiv going forward.
Lockheed Systems Make a Difference
Under Secretary of Defense for Acquisition and Sustainment William A LaPlante stressed the "significant impact GMLRS are having on the battlefield" and touted the partnership's ability to provide timely funding to produce capable products. The acquisition is part of the Ukraine Supplemental Appropriation Act of 2022, which earmarked $13.6 billion in emergency spending for the defense of global democracy.
In October, the Pentagon announced another huge contract with Lockheed, this time to replace High Mobility Artillery Rocket Systems (HIMARS). That package earned the contractor $179 million.
A Disaster for Russian Forces.
The platforms in the Ukraine theater include systems from global defense contractors. Lockheed Martin, Raytheon, and the Swedish Bofors Systems of British Aerospace (BAE). The advanced weaponry has proven itself devastating to Russian equipment and troops. As Moscow struggles to keep territory it seized early in the war and casualties rise, news of more American-made missiles, artillery, and delivery systems can't be good news for Putin's forces on the ground.
Impressive Capabilities
The call for more mobile systems and precision weaponry started long before the current volley of contractor orders. The New York Times published a piece in July highlighting the early successes of the HIMARS system and laying out its true capabilities.
The value of HIMARS lies not only in its ability to launch state-of-the-art munitions but also in its speed and mobility. The trucks can fire a six-pack of rockets and quickly disembark to another location, programming coordinates for the next strike en route. The Times reports that the platform is faster than anything the Russians have to offer.
Battle-Tested Support
Talk of HIMARS and the impact they have on the war run far and wide. Ukrainian Colonel Roman Kostenko told NPR that deployment of the platform in southern regions allowed strikes far into enemy territory. That report from September revealed that HIMARS are in high demand.
It seems that as long as the flow of high-tech weaponry that allows Ukraine to compete at or above the capabilities of Russian forces continues, President Vladimir Putin's military could have a long, hard fight ahead.
Copyright 2022, BrightPress.org