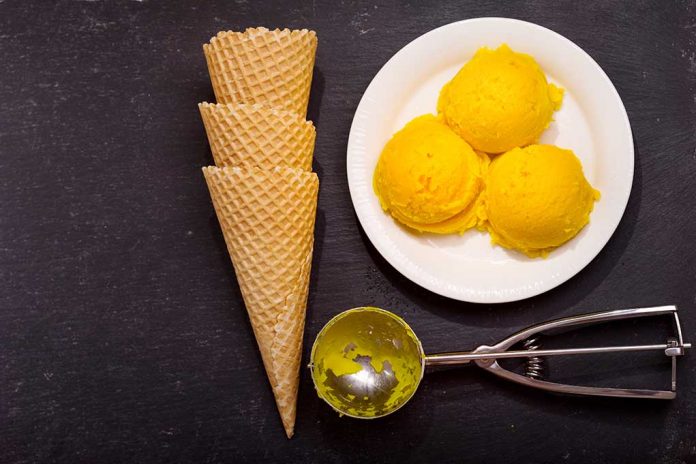 (BrightPress.org) – Oddly flavored treats used to be unthinkable. Seriously, who wants to try carrots dipped in chocolate? What about lasagna topped with applesauce or gummy bears dipped in gravy? Believe it or not, a quick search online will prove those are real food combinations. If those don't sound appealing to you, perhaps this will.
The newest summer treat you should consider trying is a mac and cheese ice cream. That's right, macaroni and cheese flavored ice cream. One can almost taste it based on its name alone.
The limited-edition flavor, created in celebration of National Mac and Cheese Day by Kraft Macaroni & Cheese and Van Leeuwen Ice Cream, hit stores Wednesday.

"It's a little funky, a little salty, a little sweet." https://t.co/QPPOYHlwYw

— WPR (@WPR) July 19, 2021
Kraft Foods and Van Leeuwen Ice Cream teamed up to create this limited-edition flavor to celebrate National Mac and Cheese Day. If you think it sounds gross, don't knock it until you try it. Apparently, it's nearly impossible to keep in stock. As soon as it hits the grocery store cooler shelf, it's gone.
The two companies said they wanted to create a unique treat made from two of the most iconic and greatest pleasure foods in modern history. The companies say the product is gluten-free, has no artificial flavors, preservatives, or dyes, and is the ultimate summer treat.
Will you be courageous enough if you find it to try it for yourself?
Copyright 2021, BrightPress.org