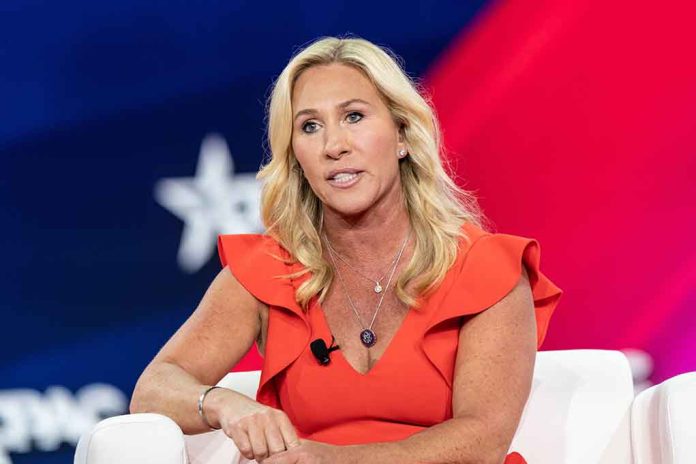 (BrightPress.org) – Representative Marjorie Taylor Greene is back in the news again, this time for being accosted during a dinner meeting with her staff by a woman and her adult son at a restaurant in D.C. Greene tweeted about the frightening experience, saying she was "screamed at." She reported working with her staff and had not noticed these individuals until "they turned into demons."
Greene is a controversial figure in the House, arguably one of the most outspoken and controversial. She's proudly supported former President Trump, called for a national divorce, and been heavily critical of Ukrainian war spending.
Lamenting the loss of civil disagreement, Greene suggested "our country is gone" if we can't have a respectful dialogue to settle our differences. With the rise of far-left organizations and consistent demagoguery from our leaders, she may have a point.
At the beginning of February, a man pled guilty to making phone calls threatening violence against Greene. Last August she was the victim of swatting, that is someone called 911 and filed a phony report in an attempt to get the police to raid her home using a SWAT team. The ultimate goal of these types is that the cops murder the swatting victim in the confusion.
Rep. Maxine Waters (D-CA) has a few choice quotes where she's encouraged this kind of behavior. During a 2018 rally in Los Angeles, she encouraged radicals to "push back on them, and you tell them they're not welcome anymore, anywhere." At the time she was speaking about members of President Trump's cabinet, but in the intervening years, we've seen more of these kinds of incidents.
Democrats have generally been in favor of weaponizing their constituents to push back, however, they cry foul any time their side is held to account or publicly mocked. Rules for thee but not for me is a consistent trope among radical leftists and limousine liberals. Modern communists prefer to identify as progressive, but the tactics they use bear a strong resemblance to Bolshevik Russia and communist China.
Copyright 2023, BrightPress.org