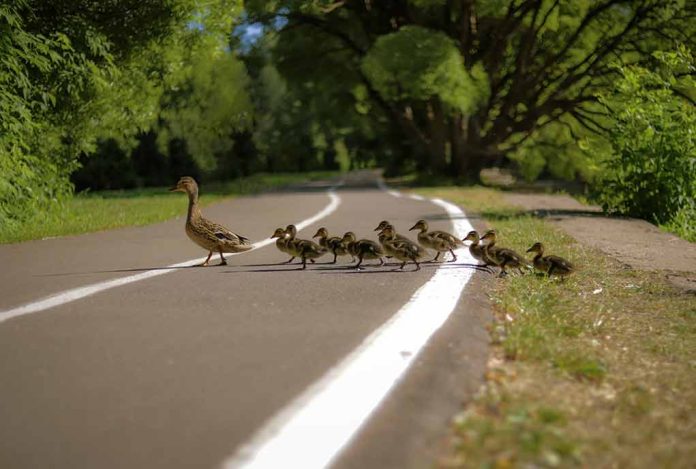 (BrightPress.org) – Tragedy struck when a California father was killed on the evening of May 19th, shortly after stopping traffic across a busy highway to escort a family of ducks across the road.
The unidentified man pulled over on the side of the street, with his children in the car, and then got out and gently ushered a family of ducks across the busy intersection of Park Drive and Stanford Ranch Blvd in the town of Rocklin, California.
Unfortunately, a 17-year-old female driver struck and killed him while the children watched the whole thing from their car. The teenage girl is cooperating with authorities and did not attempt to flee the scene, according to police.
Police have said that she is not under arrest at this time and they are actively investigating the accident. First responders were on the scene to assist, but unfortunately, they were not able to save his life. Police also wished to extend their condolences to all the witnesses and their families.
12-year-old William Wimsatt took a video of the father shooing the duck family across the road, he told 3KRCA that "everyone was clapping" and very happy to see the man helping the ducklings. William and his parents thanked the dad for his act of kindness.
He was struck by an eastbound car traveling on Stanford Ranch Blvd which resulted in his tragic and untimely demise. Young William recalled the sound of the impact and watched the man fly across the intersection. The impact was so intense it knocked a shoe and sock off. He found the attempt to help the ducks admirable and thought the fact he was killed as a result unfair.
William's mother went to comfort the man's children who had just witnessed their father's death. A photograph shows the man shooing the ducks across the road. Summer Peterson, another witness, said she and her children watched the entire thing happen, and it was shocking. One moment, they thought it was an adorable act of kindness, and then the next, tragedy.
She's helped set up a small memorial at the intersection; her son wanted to bring flowers and tiny rubber ducks as a way to honor the man's last act of kindness.
Copyright 2023, BrightPress.org