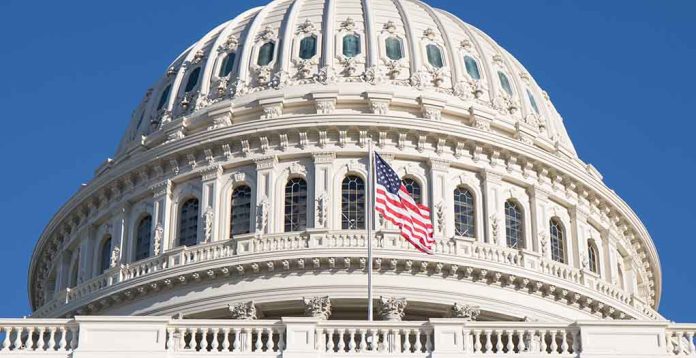 (BrightPress.org) — The end of the year means it's time for Congress to pass the federal budget. As is typical, there's another impossible-to-read gargantuan "omnibus" spending package coming in at a whopping 4,155 pages totaling over $1.7 trillion in spending. We tend to raise roughly a quarter to half a trillion in tax revenue per year for comparison.
Rand Paul stacked the bill in a cart riddled with posters that said, "1.7 Trillion of Hazardous Debt," "Greatest threat to our national security," and so on.
Chuck Schumer claims, "Finalizing the omnibus is critical…" and further explained it was "absolutely critical" in order to prop up the regime in Kyiv, or rather "our friends in Ukraine." Proponents and advocates for passing the bill also suggest there are changes that will help prevent another January 6th-style riot at the Capitol.
Given the length of the bill, it's impossible to go through it and review it before it will be voted on. That said, some folks have begun to sift through the lengthy tome and what they've found so far includes things like $3.6 million for a Michelle Obama hiking trail, $2 million for a wax museum, and $45 billion for Ukraine.
With spending like that, it's easy to see how it totals nearly two trillion dollars. Republican Mary Miller, a representative in the House declared she would "vote against the radical Biden omnibus" and called the $3.6 million for Michelle Obama's hiking trail "woke nonsense."
The trail was renamed in 2016, and the funding would theoretically go toward the maintenance and expansion of the park. However, when compared with other highway infrastructure programs it's more expensive and curiously not a highway.
Here are just a handful of the many earmarks in the bill, including $3.6 million for the "Michelle Obama Trail." pic.twitter.com/OdZnlWSqLV

— Rep. Dan Bishop (@RepDanBishop) December 20, 2022
While proponents claim the spending bill creates jobs and helps secure America, one has to wonder if spending insane amounts of money we don't have is actually good for American national security.
Copyright 2022, BrightPress.org