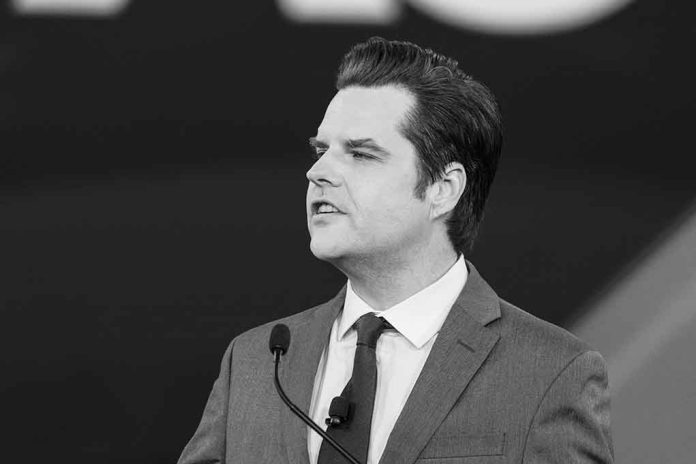 (Brightpress.org) – Florida Republican Rep. Matt Gaetz ripped into President Biden and warmongers in both parties on Monday, February 6th for their seemingly unlimited willingness to send taxpayer dollars to Ukraine, inflating America's national debt.
Asking if there was "any limit" while speaking on the floor of Congress, Gaetz inquired how much Congress and the President are willing to spend on the conflict.
Pointing to the Chinese spy balloon fiasco, he claimed China was the threat we should concern ourselves with – not Ukraine. Taking a potshot at Hunter Biden, he pointed to the rampant corruption common to the Ukrainian state where the President's son earned millions in questionable business arrangements with their state-run energy giant, Burisma. At the same time, the President himself was rumored to have received almost as much during his time as VP.
Gaetz asked if there are any direct benefits to Americans. He also implied that our continued support in terms of arms and funds is making a large conflict with Russia increasingly likely. That would threaten global stability, and thus American and European livelihood.
Commenting on the escalation, Gaetz pointed out that we've sent them all kinds of weapons Biden claimed were not going to be sent. The U.S. recently announced a commitment to send M1 Abrams tanks which was a stark reversal of the previous position that the tanks were too difficult to operate and maintain to be useful. Now Zelenskyy is asking for jets, and Gaetz seemed to think they would get them, saying "F-16s are still likely."
He pointed out that Lockheed Martin told the Financial Times that they were already increasing production in anticipation.
Gaetz claimed that leadership in both parties has been wrong time and time again when it came to international conflicts. He ended by suggesting "we can – and must – push for peace." He continued to point out that Donald Trump is one of the few voices calling for an end to the conflict while suggesting its continuation could lead to another world war.
Copyright 2023, BrightPress.org