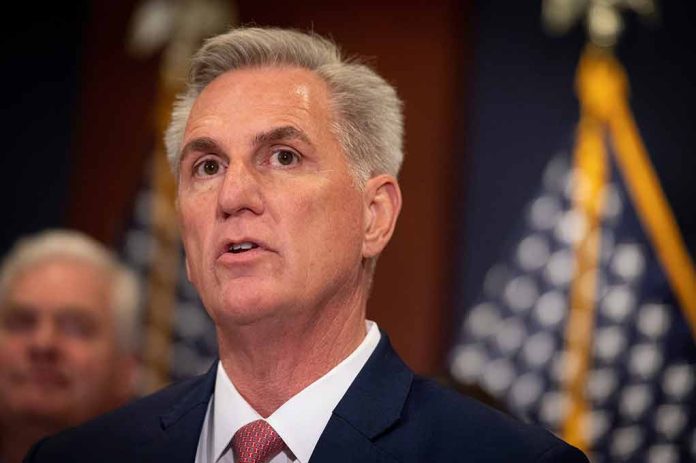 (BrightPress.org) – California Democrat Representative Adam Schiff has faced calls for his expulsion from Congress after the report from Special Counsel John Durham was released on May 15th, 2023, with lawmakers blasting him for his incessant claims of Trump-Russian collusion before, during, and after former President Trump was in the oval office. Rep. Schiff was a member of the Foreign Intelligence Committee until House Speaker Kevin McCarthy removed him shortly after the 118th Congress began in January 2023.
Now Speaker McCarthy has publicly voiced his concerns about Rep. Schiff, hinting that he could be looking at starting an effort to expel him. Speaker McCarthy questioned how it is possible that Rep. Schiff has remained in Congress during an interview with Maria Bartiromo on Fox News, also asking, "Why does he think he could even run for higher office after what he did?" Rep. Schiff has launched his 2024 campaign to replace retiring California U.S. Senator Dianne Feinstein. Speaker McCarthy's comments come after he had already made similar remarks to the press during a briefing on May 17th, 2023.
During the Trump administration, Rep. Schiff would leave a classified briefing within the Foreign Intelligence Committee and go straight to the press with claims that he had full-proof evidence that President Trump had colluded with Russia, and now Americans know that he was fabricating those claims entirely. Rep. Schiff has never given the public any of the evidence that he claimed to have. However, he has not backed down from his narrative that there was collusion between the 45th President and Russia, dismissing the findings in the Durham investigation, calling it "flawed from the start," claiming that it was only conducted to appease then-President Trump, ignoring the obvious conclusions from Durham that are consistent with the FBI's own admissions following the release of the report. 
Representative Anna Paulina-Luna (R-FL), introduced a bill to expel Rep. Schiff from Congress on May 17th, 2023, for his continuous lies to the American people which led to an even more divided nation, unnecessary investigations, and contributed to the first impeachment of then-President Trump. 
Copyright 2023, BrightPress.org