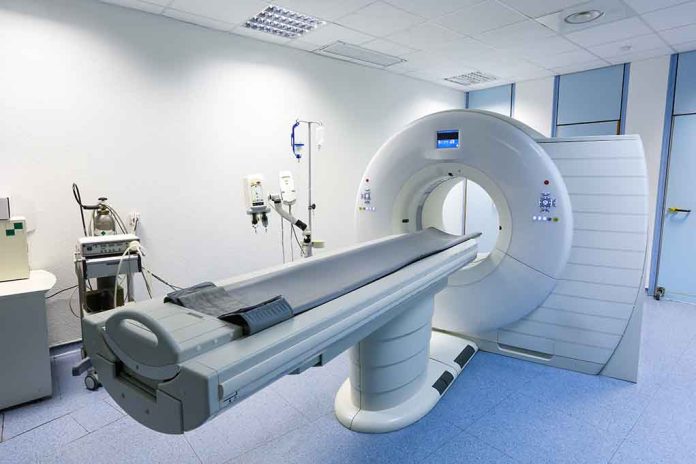 Medical Supplies and Care in Jeopardy as COVID Lockdowns Continue
(BrightPress.org) – As the United States emerged from COVID-19 lockdowns, the economy began to experience shocks as supply chains struggled to keep up with the massive needs of recently pent-up consumers. As China encountered difficulties meeting manufacturing and shipping demands due to its zero-COVID policy, some questioned why the US relied so heavily on the communist nation for certain supplies. Consumer goods weren't the only items impacted. Numerous life-saving medical items are in short supply as well.
On March 27th, the Chinese Communist Party (CCP) locked down Shanghai. General Electric makes medical dye that doctors use to diagnose severe health conditions in facilities there. The plant is the major supplier to approximately half of the hospitals and imaging centers using GE CT scanners in the world. The dye is now in short supply, and practitioners are rationing care to preserve its limited quantities.
Doctors Rationing Procedures
Every year, imaging specialists in the US perform 50 million scans with the contrast in question. Health facilities typically carry enough of the dye, which works in conjunction with the company's computerized tomography (CT) scans, to last a few weeks. Medical professionals inject the specialized reagent into patients to help physicians locate blocked heart veins and stroke areas, monitor malignant tumors, and more.
Health systems globally have deferred non-urgent medical procedures in order to reserve available contrast dye for lifesaving procedures involving stokes, acute heart issues, and other life- and limb- threatening emergencies. They're instead using magnetic resonance imaging (MRI) or ultrasounds that don't require the dye but aren't as effective as CT scans. Many doctors say the change in tools could delay diagnosis or even cause a misdiagnosis, and they may not know the true extent of the fallout for a while.
Crippled Supply Chain May Not Get Better For Some Time
On May 18, a GE Healthcare spokesperson said the Shanghai facility was trying to get back to full production with the blessing of local officials. The person noted the global company was increasing supplies using planes instead of cargo ships. Over two months later, hospitals are still not receiving consistent shipments.
Logistics experts say the problem could last well into late September. In the meantime, health professionals may have to practice ongoing conservation strategies even though the overseas plant has been operating at 100% capacity for weeks. To help preserve supplies, officials are limiting who gets procedures, and healthcare professionals are keeping their consumption at the bare minimum.
To help overcome the shortage, the FDA temporarily approved the import of three dyes from manufacturers in Europe, including one manufactured by Bayer in Berlin, Germany. The American Hospital Association is asking General Electric to prioritize the distribution of its dyes to US hospitals treating patients with the most urgent needs.
Copyright 2022, BrightPress.org