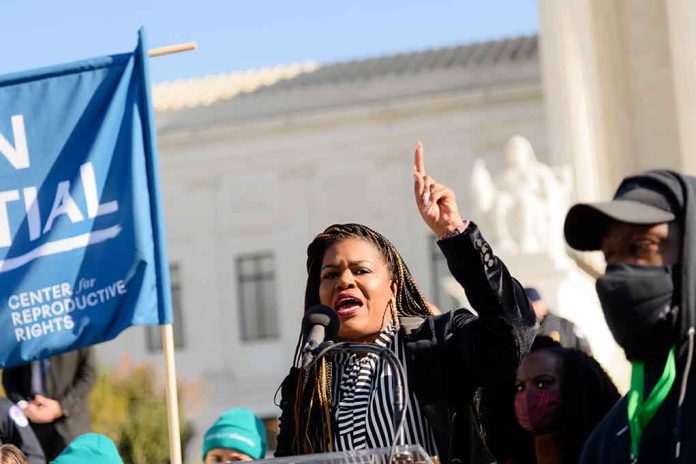 (BrightPress.org) – House Representative Cori Bush (D-MO) has curious hiring practices when it comes to her personal security. Nathaniel Davis III is her highest-paid bodyguard, earning roughly $137,000 from his employment since 2020 according to FEC filings revealed by Andrew Kerr at the Washington Free Beacon.
His investigative report confirmed that Davis goes by the alias "Aha Sen Piankhy," and when he's not accompanying Bush on the campaign trail, he is a spiritual guru who teaches his students telepathy, the evocation of spiritual beings, and how to develop and maintain an urban garden.
Davis is a former member of the New Black Panther party and has been quoted in the past by Vice News for his activism during the fallout of the Michael Brown shooting. In a short video, he claims to be able to conjure tornadoes and direct lightning, and is "trillions" of years old. He concludes by letting viewers know how humble he is (because he knows what he can do) and quotes Spiderman's famous line: "With great power comes great responsibility."
Bush herself has worked as a faith healer, and in 2021 the head of her church claimed that he healed Bush's COVID-19 over the phone.
Interestingly Bush also married a former security guard of hers, indicating she does not know how to parse professional and personal relationships. An NBC affiliate is reporting that she paid her now-husband, Cortney Merritts $62,359 salary plus $2,359 in expense reimbursements in 2022. They got hitched the first weekend in March 2023.
A spokesman confirmed the marriage, suggesting that the two had been dating long before she was elected to Congress and that he is not employed by her Congressional office. For someone who pays top dollar for security – including magical gurus who can conjure lightning and tornadoes – she has frequently argued to defund the police. One would think she would instead be interested in funding and enhancing police training, so they too can benefit from the use of nature magic.
Copyright 2023, BrightPress.org