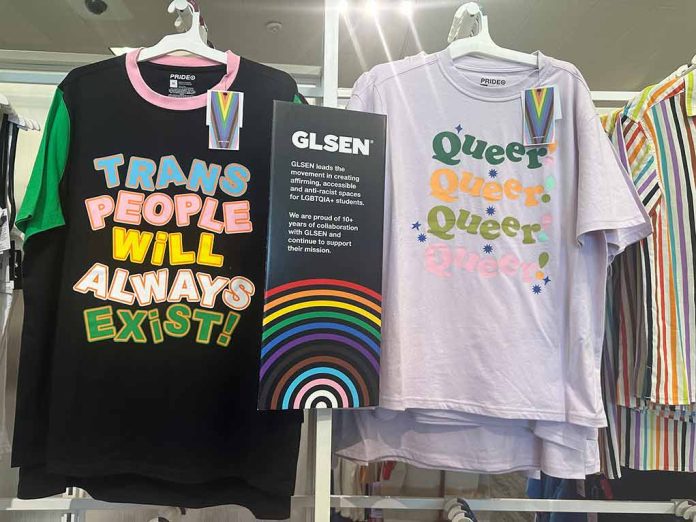 (BrightPress.org) – Megyn Kelly, host of the popular podcast The Megyn Kelly Show, had some critical commentary for Target over their Pride displays and controversial decision to host apparel designed to encourage children to dress as the opposite gender. One of the more controversial items is a women's-style bathing suit designed with extra "tuck" material to smooth and conceal male genitalia.
Kelly critiqued Target's decision to partner with fashion outlet Abprallen, mentioning that they have a "pro-Satan line" of t-shirts and other apparel. Joking that the gear is clearly not intended for biological women, "because we don't have penises down south in Rio."
Target CEO Brian Cornell defended the decision on a recent podcast appearance. Cornell expressed the idea that "all" families were important, while simultaneously disregarding the beliefs of Christian and conservative families who do not wish to have gender ideology or endorsements of adult behaviors marketed directly to their children for the entire month of June.
Abprallen's website features a skeleton donning a pride flag and features plenty of t-shirts painting Satan in a positive light. Continuing, Cornell called the association a "good business decision" and tied it into the diversity, equity, and inclusion trend capturing businesses from Bud Light to Ford.
Mathematician and author James Lindsay critiques the radical left dominating business practices regularly on his channel, making a point to elaborate that this corruption of classic American brands is intentional.
Kelly railed against their rainbow flag baby-onesies while pointing out that Abprallen's products clearly favor leftist ideology.
Cornell and Kelly contrast the two different popular positions when it comes to identity politics and gender ideology sweeping Western culture. Kelly presents the reactionary perspective: this is wrong and isn't helping anyone, especially children. Cornell believes that pushing these ideas into the culture is not only a "good business decision" (despite evidence to the contrary) but also that it's necessary "for the good of society."
Good intentions tend to have disastrous consequences.
Copyright 2023, BrightPress.org