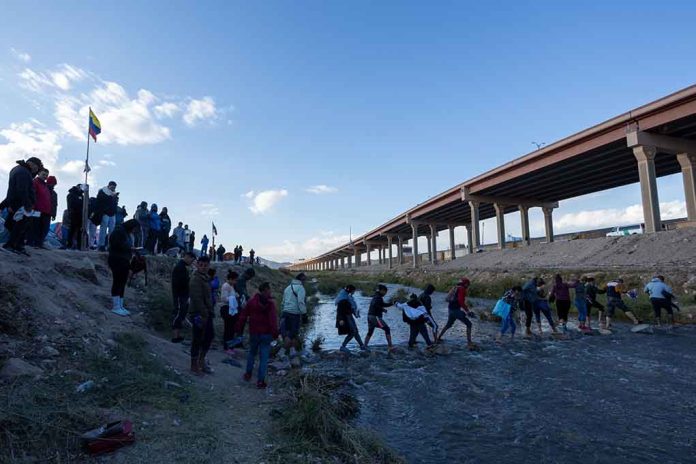 (BrightPress.org) – U.S. Border Patrol captured and deported a man wanted for murder in Mexico for the second time in early March. Gregorio Gutierrez-Galvan, 64, was handed off to Mexican authorities at the Juarez-Lincoln Bridge on Friday, March 10th.
ICE Field Director Gabriel Martinez spoke to reporters, informing them that he had twice entered the U.S. illegally in order to avoid prosecution for murder in Mexico. He was first captured and deported in 2018, and then reentered at some point thereafter. In August 2022, ICE investigators found him living in Killeen, Texas where he was apprehended.
After an immigration judge found him in violation, his previous deportation order was reinstated. According to ICE data, in FY2022 they arrested 46,396 noncitizens with criminal records. Of the criminals captured, over 20,000 of them had convictions or charges for assault, 5,500 for weapons, 1,500 for murder, and 1,100 for kidnapping. These are not family-friendly asylum seekers.
Many migrants relocated to New York City, where the local government has been incredibly accommodating with offers of free housing, food, medical, and even legal advice, and education offered for their children and young people.
That last part has rankled New York Republicans and other conservatives who think the city is going too far. While Mayor Eric Adams is floating the idea of free college, Governor Hochul is suggesting tuition hikes for Americans who attend NY State public universities like SUNY and CUNY where immigrants would get free room, board, and tuition.
"No thank you," State Senate Minority Leader Robert Ortt (R-Lockport) said in response. The experimental pilot program would send up to 100 illegal immigrants upstate for 1 year, all expenses paid, for the bargain price of only $1.2 million.
NY Republican Party Chairman Rep. Nick Langworthy (R-Jamestown) called the program "outrageous," and lamented the taxation of hard-working New Yorkers in order to fund radical relocation and resettlement programs that cost billions. "Secure the border and stop this nonsense," he said.
Copyright 2023, BrightPress.org