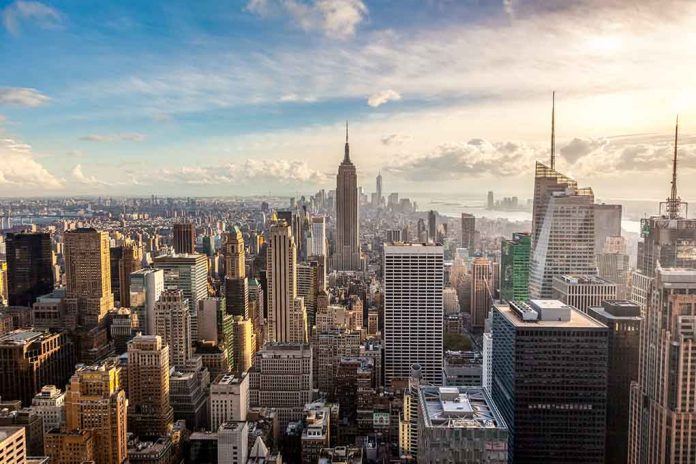 (BrightPress.org) – Midtown Manhattan vacancies have left roughly half the space in commercial real estate unoccupied, a downstream impact of pandemic-related lockdowns combined with corporations realizing they don't actually require office space. March 2023 will be the third anniversary of the two-week shutdown to stop the spread, which saw Manhattanites bearing the label of "unessential" forced to stay home due to paranoia and government overreach.
Steven Roth, chief of commercial landlord Vornado, seems to think that long weekends are the way of the future, implying that there simply aren't enough people coming into work on Fridays, and Monday isn't far behind.
The sheer volume of available office space has doubled since 2019, and the current vacancy rate is 22.2%. The city prefers to call this the "availability rate" in a typical example of leftist wordplay which makes a bad thing sound better.
Many building owners are even giving the keys back to the banks, according to RXR's Scott Rechler.
Some are proposing the extra space be appropriated or rezoned for casinos or housing. Others are arguing that less time in the office is actually a good thing to help workers be more productive and more relaxed. Vacancy also forces the cost of commercial real estate down, allowing more small businesses to expand or start-up.
A big problem for the city is the loss of tax revenue, with the city reporting about $7 billion in income from property taxes in 2021, per the city's comptroller. Not to mention additional taxes to individual earnings for folks who work in the city, and the added benefit of them paying to commute in and out using tunnels or trains.
While some want to convert them into housing, it's a feat that's more easily said than done, as most office buildings are meant to be offices and lack necessary features like windows for them to be legally considered a living space. There's also the additional fact that the city already has some 60,000 empty rent-regulated units that landlords are sitting on.
Regardless of what happens, most seem to think the workers will come back eventually, and that's the strategy the city will continue to employ for now.
Copyright 2023, BrightPress.org