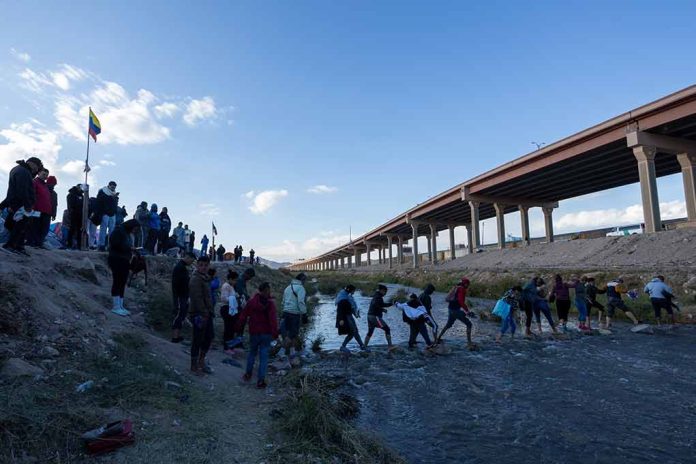 (BrightPress.org) – As Title 42 is set to expire, things are heating up along the US southern border. There are thousands of encounters per day and rising, with numerous getaways, and the occasional violent outburst.
Migrant encounters have swelled to a new all-time high of approximately 9,000 per day, according to the Texas Department of Public Safety, the previous high of 7,200 per day was hit during December. Texas DPS Spokesman Lt. Chris Olivarez speaking with Breitbart Texas said that their agency had record-high encounters in recent days and they're anticipating things to get worse as Title 42 is set to expire on Thursday, May 11th. 
Over a quarter-million migrants could enter the country in May alone if these numbers remain consistent or increase further. In April, the total was over 181,000. Migrants aren't the only thing coming over the border. In a tweet from U.S. Border Patrol Chief Raul Ortiz, he noted that thousands of pounds of illegal narcotics, including fentanyl, and methamphetamine were seized along with cash, firearms, and known gang members. 
The situation is so severe that Department of Homeland Security Secretary Alejandro Mayorkas has been in the Rio Grande Valley since Thursday, May 4th. The mayor of McAllen, Texas Javier Villalobos was happy to hear that federal funding will be available to help them deal with the surge, in 2021 McAllen was granted over $30 million in reimbursements for processing migrants. While he's grateful for the funds, he also stated McAllen is "fortunate" that the migrants won't be staying there. 
As they travel to and around the U.S. there's an additional threat to the safety of these migrants: many are indebted to cartels for helping them get into the country, some are labor trafficked, including teenage children, and some are killed. Eight migrants died and ten more were injured while waiting for a bus in Texas when an SUV slammed into the crowd. It's not exactly clear what happened, but authorities have the suspect, a Hispanic man, in custody. Over a hundred migrants were found stowing away on a train in extreme heat conditions, thankfully they only suffered minor injuries. 
Copyright 2023, BrightPress.org