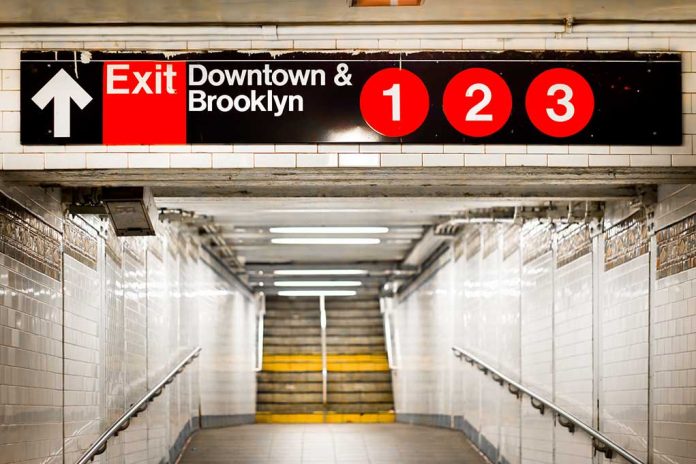 (BrightPress.org) — New York City experienced some migrant drama on Sunday night into Monday, January 30th, as the city decided to move hundreds of single male border crossers from the Watson Hotel on west 57th street to a new temporary housing facility at the Brooklyn Cruise Terminal.
Many of the migrants were not interested in exchanging their posh midtown location for one in the outer boroughs. The migrants themselves have bikes and mopeds – how they can afford them no one knows – so it should be possible for them to commute like most people who work in Manhattan.
Police shut down the eastbound portion of 57th street in order to accommodate the buses, media, and police presence on Monday. Dozens of officers in as many vehicles came to maintain order. The corporate press also had a large presence with media from all the majors. Onlookers watched Sunday night into all day Monday. Many of the migrants eventually boarded the city MTA buses which took them to the new location in Brooklyn. Some walked off to find their own accommodations, and some relocated and returned to the Watson shortly thereafter, according to statements made by activists on the ground. As of Tuesday morning, relocation efforts were still underway with some refusing to leave camping outside on the sidewalk.
Left-leaning activists from around the city flocked to the Watson to protest the relocation. One activist claimed the site in Brooklyn will be a "death camp" while ignoring the fact that the city will continue to provide free housing, medical, three meals a day, clothing, and help to find a permanent residence to any border crossers who show up in the city. One banner read "Cancel Rent" which would apply if the migrants were asked to pay for anything, that privilege is reserved for Americans exclusively.
The city has been host to an estimated 40,000 migrants and asylum seekers, all of whom illegally crossed the southern border and were shipped up from there via free buses or flights. Texas Governor Greg Abbott has been embroiled in controversy for offering migrants free transportation out of his state. President Joe Biden and the democrats refuse to acknowledge their role in the crisis, or even call the waves of illegal immigration a crisis at all.
Copyright 2023, BrightPress.org