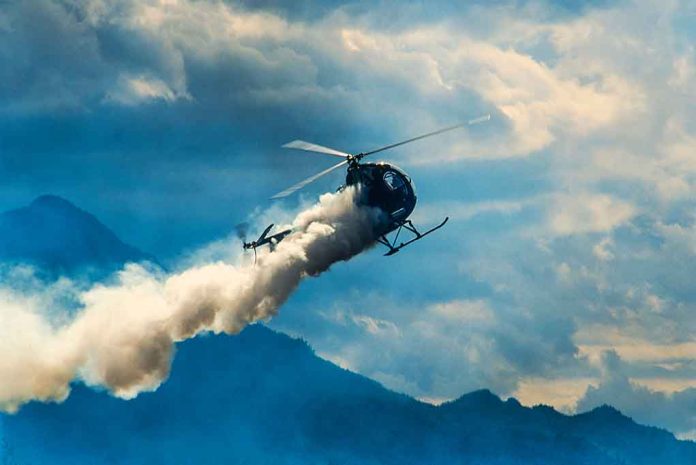 Russian Choppers Shot Down by Ukraine
(BrightPress.org) – The Russian Ka-52 Alligator is a single-seat attack helicopter optimized for performance and communications in battlefield situations. Nicknamed the "black shark," the chopper is the Kremlin's deadliest. Unfortunately for Moscow, two of the prized helicopters, valued at about $15 million each, fell victim to Ukrainian anti-aircraft gunners in under three minutes.
On November 1, reports indicated that Ukraine's Air Force took credit for destroying the gunships the day before, adding to a string of successful missions of late against Russian military aviation. The operation took place just weeks after four other Russian helicopters went down in an 18-minute melee with Ukrainian troops. On Tuesday, Kyiv also displayed its surface-to-air capabilities as a missile took out a Mi-8 chopper in the Donetsk region.
Phenomenal: Ukraine shoots down two Russian choppers in three minutes https://t.co/ws5v6qiSgV via @MailOnline

— Nile Gardiner (@NileGardiner) November 1, 2022
Video of the recent attack shows a missile hitting a helicopter, followed by its inevitable crash. The missile came into the frame low and extremely fast, erupting into a fireball as it hit the aircraft. The helicopter continued flying for a bit before tumbling to the ground and rolling to a stop. There were no visible parachutes or other signs that anyone made it out of the wreckage.
The effort has been very costly to Russia thus far. Putin's misfired attempt at taking the country Soviet-style has resulted in as many as 80,000 Russian troops dying or being injured. The nation has also suffered losses of thousands upon thousands of tanks, armored vehicles, planes, helicopters, and other vital transportation systems and military platforms.
Copyright 2022, BrightPress.org